"Bitcoin has the same character a fax machine had. A single fax machine is a doorstop. The world where everyone has a fax machine is an immensely valuable thing." — Larry Summers, Former US Secretary of the Treasury
We are already living in a world that runs on information — and whoever has the best access to data pulls the strings that define their own and others' future.
However, blockchain technology represents the dawn of a new era — one where data is free of manipulation and resources are accessible to all.
As a shared, immutable ledger that facilitates the process of recording transactions and tracking assets on a distributed network, blockchain in the enterprise environment is an especially exciting prospect. Why?
Big Companies Jumping on the Blockchain Bandwagon
Throughout 2020 and early 2021, we've had the opportunity to witness a number of high-profile companies — leaders in their respective industries — abandoning the notion that blockchain is a fad.
As a result, they have invested billions of dollars in bitcoin and other cryptocurrencies in an attempt to monetize their investment in the long run. This, in turn, has started the avalanche of enterprise blockchain adoption resulting in a steady coin price increase several times over.
But it's not all about the big picture.
As stated in a Forbes article, investors who want to make money on blockchain, need to invest in the companies that are both earning revenues from it today and building the systems that might make for a new revenue stream in the future. It's a combination of long-term bets and very short-term ones, too.
That is why enterprise adoption of blockchain is on the rise.
Everyone wants a piece of the cake. But how to get it? And is such expeditious growth sustainable?
Stock Options and Blockchain
Knowing what we know about blockchain right now, it's evident that the opinion of stock market participants on the matter is changing for the better.
As the list of the technology's practical applications expands — from facilitating and recording financial transactions to storing all sorts of data, such as medical information or property records — a new buzzword has emerged in the investment world: blockchain stock.
And its implication is clear — enterprise blockchain's potential is enormous.
Not only is the industry as a whole shifting, changing, and evolving in a positively revolutionary way, but its popularity is reflected in the stock market. A single mention of introducing blockchain can send a company's shares soaring, not to mention fortifying its balance sheet.
There are even lists emerging where companies' investment prospects are evaluated based on their blockchain connections, implementation process, and overall potential. So with due diligence completed on any of these companies, the only question that remains is how to invest safely.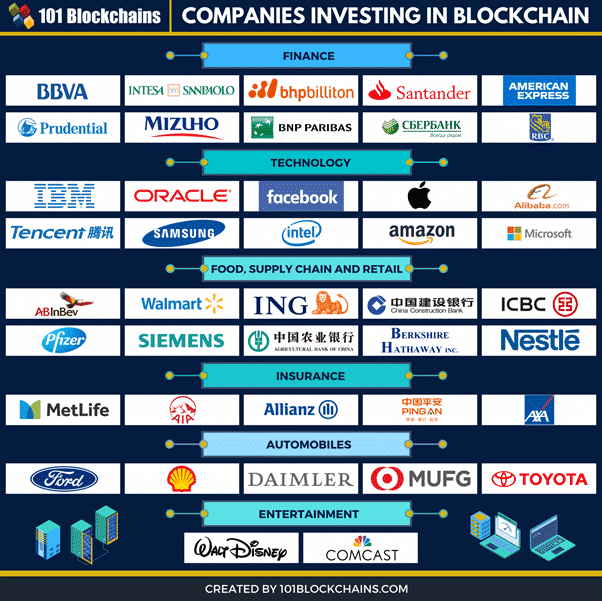 Source: https://101blockchains.com/companies-investing-in-blockchain/
How to Invest
When it comes to investing in blockchain in the enterprise setting, there are several options to choose from:
Stocks
Exchange-traded funds (ETFs)
Crowdfunding.
Investing in blockchain technology is easiest via the stock market. There is a good number of companies that have already had their initial public offering (IPO). Thus, their stocks are available to purchase on stock exchanges and over-the-counter markets.
On the other hand, ETFs provide access to funds actively investing in blockchain companies and are highly profitable especially for investors who are seeking high market returns without risking the potential downside of individual stocks.
Finally, enterprise blockchain crowdfunding networks are also a very popular option as of late. They allow startups to create their own digital currencies and then gather funding through their sale.
One such platform is Republic — a leading online investment platform for individual investors across a wide range of asset classes. These include early- and late-stage technology companies, video games, cryptocurrencies, real estate, and "Main Street" businesses.
Each option sounds interesting for enterprise blockchain adoption, but some take things to the next level.
For instance, through one of the platform's branches, Republic Realm, companies and individuals alike have the opportunity to invest in digital real estate — in virtual worlds — and claim ownership over them in the form of NFTs.
This new market is at the intersection of emerging technology that is virtual reality and blockchain. Moreover, it provides the opportunity for developers, investors, and hobbyists to create a vibrant digital real estate market, and maximize value in due course.
But how to join? You need highly functional and reliable blockchain enterprise asset management tools.
Advanced Investment Tools
Anyone who is interested in buying now and reaping the benefits later should be on the lookout for the best way to go about it. Finding the right tool is instrumental.
This includes serious considerations of the technology's data security and privacy, but also the ease of use. As those conditions are met in the eyes of the rigorous enterprise blockchain user, the next criterion to satisfy is information sharing and overall visibility over company funds and transactions.
But how to share sensitive company data without compromising it?
The conundrum between privacy and easy information sharing is truly one for the books. But there are those already working on resolving it.
One of the companies paving the way for mass user and enterprise blockchain adoption is AIKON.
Utilizing blockchain to secure data, AIKON's blockchain authentication system ORE ID and enterprise-grade multisig crypto wallet ORE Vault provide a clear and safe gateway into the blockchain-verse.
Companies looking to tick all the boxes mentioned above can rest assured that ORE Vault provides easy access to funds on multiple blockchains directly from the app and without data disclosure to third parties.
At the same time, company financials can be easily managed with complete transparency and no blockchain-innate complexity via a clear and easy-to-interact-with interface and a fully automated notification and authorization system.
Tracking your enterprise ethereum — its blockchain location, when, and how it's traveling — has never been as straightforward as with ORE Vault.
Furthermore, via the shared wallet feature, companies are in the position to create separate wallets for all their departments and grant differing policies accordingly.
And best of all, the funds are safe simply because they are always with you. As a non-custodial wallet, ORE Vault allows the owner to be in full control over the private keys and digital assets at all times. This can also prove to be useful against any rogue current or former employees.
By all accounts, enterprise blockchain adoption is knocking loudly, and companies like AIKON are here to make it all happen.
Are you ready to join?
Latest posts by FreelancingGig
(see all)