If you want to turn your freelance services from a gig to a real business, you need to take your marketing game up a notch to earn serious profits

You need to run the right marketing strategies to gain serious traction, generate truckloads of engagements, and close high-paying contracts.
The good news is, there are practical ways to market your freelancing services and skills without burning a hole through your pockets, and that's what we'll share in this guide.
Why market your skills as a freelancer?
Whether you're freelancing part-time or full-time, your success can rely heavily on your marketing efforts.
Marketing your services and skills requires a combination of market research, outreach, and self-promotion. Nail these three aspects, and your marketing efforts can help you:
Stand out from other freelancers in the same niche or industry
Establish an online presence that exhibits your unique skills
Build a list of potential and ideal clients who need your service
Position yourself as a thought leader and industry expert
Secure regular, profitable work that also suits your passions
Expand your network and boost your word-of-mouth referrals
Reduce the chances of attracting undesirable or unsuitable clients
Marketing on top of freelancing work comes with unique challenges. However, once you establish the best marketing approach that works for you, you'll increase the chances of getting a steady stream of clients and income.
While self-promotion can feel awkward, balancing it with the right marketing strategies can help boost your ability to get more clients and work.
4 tips on marketing your freelancing skills
Marketing your skills as a freelancer takes a bit of elbow grease before you start seeing significant results.

However, tried and tested strategies can help kickstart your efforts, starting with the following tips.
1. Establish your marketing approach
Before running a full-blown marketing campaign or strategy, determine your approach first.
After all, it's fairly easy to stay on top of your marketing activities when you're starting as a freelancer, but this can get challenging as your clients and workload grow.
To ensure you don't forget anything and establish a seamless workflow, use a reliable project management platform such as Trello.
The web-based software's collaboration tools let you organize your marketing and other projects into Kanban-style boards.

You can use the app's templates and customize them to create boards for your project resources, meeting reminders, questions, and notes, to-do lists, and pending and accomplished tasks (among others).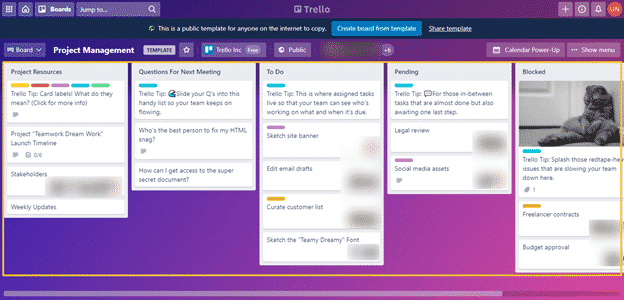 You can also the your project management software to:
Save prospect conversations for future reference and monitor your pitches to potential clients
List your freelance work platforms and social channels that require regular updates
Create a list of your existing industry contacts
Build a bank of relevant keywords and niche sources for reference
Make a swipe file (with screenshots) and links to the best examples of marketing materials and campaigns from other freelancers and experts in your industry
A project management platform simplifies keeping track of your tasks and activities, so you don't miss anything, stay on schedule, and ensure you accomplish your critical jobs and marketing projects efficiently.
2. Find the right freelancing platforms
Freelance work platforms are some of the best channels to market your services and skills, but not all are made the same.
Find a freelancing platform that helps you optimize your marketing efforts and showcase what you have to offer potential clients.
At a minimum, your freelancing platform should allow you to:
Create a professional profile. Choose a platform that allows you to build and optimize your profile to reach your target clients. Also, consider one that already has your target audience and helps your potential clients find and connect with you easily.
Access many projects and work opportunities. Find a freelancing platform that allows potential clients to post projects so you can send proposals. This increases your chances of finding more jobs and working with clients (and projects) that best fit your services and skills.
Establish your professional reputation. Leverage a freelance work platform that helps you build your reputation. For instance, some platforms use a merit system and allow clients to post reviews of freelancers they've worked with.
This can help build up your credibility and reputation, encouraging potential clients to work with you.
For instance, FreelancingGig displays its featured gigs/freelancer services with their average ratings (with five stars as the highest).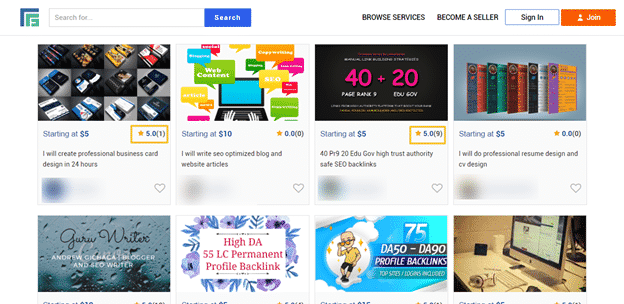 Find a platform for freelancers that can bolster your marketing efforts and increase your opportunities of getting projects and closing more clients.
3. Create a personal or portfolio website
A personal website helps you come off as a professional in your field and establish your credibility.
It's an excellent space to showcase your skills and services in a way that you can't with just a profile.
Leverage your personal website pages and elements in these ways.
Homepage. Include a compelling call-to-action (CTA) on your homepage to help hook in potential clients the moment they land on your website. Keep it simple and catchy and make it easy for visitors to find what they're looking for and browse through your site.
About me page. Leverage your About me page to tell potential clients who you are and what you do. This helps your prospects get to know you better and assess whether you're the best fit for the job.
Portfolio/project page. Showcase the projects you worked on and include a summary of each one on your portfolio page. This helps your prospects see the kind of output they can expect from you.
If you're new to creating a personal website, look at some of the best examples of portfolio sites online, such as Sean Halpin's site.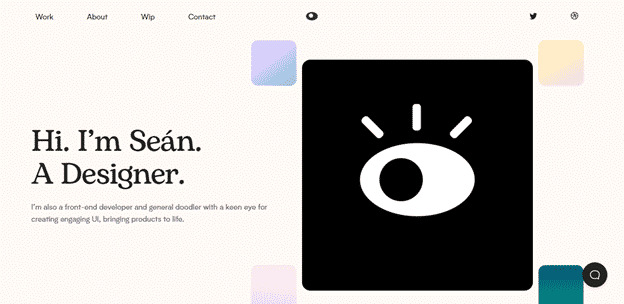 The website includes a no-fuss, simple homepage. It displays what the site owner does briefly with some interesting animated graphics that play on the phrase "keen eye" in the text description.
This can be a great personal website design to emulate. It can help you be as clear and direct as possible about your freelancing services and skills to your prospects while sparking their interest.
4. Leverage social media
Your Facebook or Instagram activities will not only help you generate leads, but you can also use social media platforms to build social proof and expand your network.
Create a business account, optimize your social media profiles, and implement best practices such as joining Facebook groups to interact with and learn from industry experts, connect with other freelancers, and even uncover potential gigs.
You can also join the LinkedIn groups where your prospective clients hang out to help you network with them and stay updated on the latest industry news.
Go beyond posting on your social media accounts and take advantage of other opportunities on social media, such as joining virtual summits, networking events, growing your own list, etc.
The next steps to marketing your freelancing skills
Freelancing is a great way to achieve financial stability and be your boss — if you do it right and establish the right marketing strategies to keep clients coming in.
While there is no one-size-fits-all formula to marketing your freelancing skills and services and getting more clients, use the tips in this guide as your jumping-off point and build and refine your marketing strategies from there.
Start marketing your freelancing skills and establish an income stream that will help you turn your freelancing gigs into a profitable small business someday.
Featured Image Source: Unsplash
Latest posts by FreelancingGig
(see all)