Running an online business while working a 9-to-5 job can be an absolute nightmare. (If you don't have clarity and systems in place, of course.)
After all, you'll need to set up a digital shop and implement marketing campaigns to grab visitors for your online store on top of doing your regular work.
If you're running a SaaS business, you need to stay on top of your Azure DevOps backups to make sure your critical business codes are safe and your business continues to run smoothly.
Although working your day job while running a side hustle is challenging, it's a completely possible and profitable endeavor.
With the right strategies, you can operate a successful online business without giving up your regular job, allowing you to make money from two income sources.
This guide looks into five tried and tested tips to help you balance running an online business while working a full-time job.
1. Find the right products
While an online side hustle lets you pursue whatever you are passionate about, it's also crucial to be practical about it.
Choose products that you have the resources and capacity to sell.
You don't want to sell something you can't produce or deliver on time or you'll end up with frustrated and angry customers. This can ruin your business before it can even fully take off.
Also, working full time means there are limitations and drawbacks to your time, energy, and resources.
Start by considering the following factors:
The time it takes to build or source your products.
The kind of customer support your buyers would need to use your products.
If your product will limit your ability to outsource or automate parts of your operation today and in the future.
The logistics involved in order fulfillment, such as a reliable ecommerce platform and an online marketplace.
Leverage product sourcing and research software' such as JungleScout. The tool helps you generate product ideas to sell on Amazon in seconds.
It lets you sort products by categories easily in Amazon's product database and filter them by their sales rank, revenue, estimated sales, etc., to help you find profitable opportunities.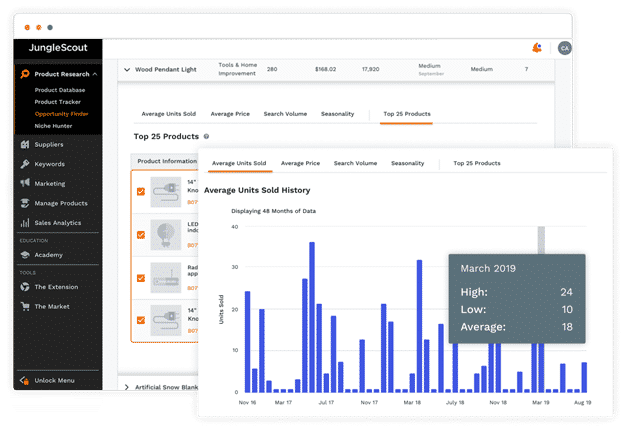 Image source: JungleScout software.
Your time and energy are limited, so consider if it's practical for you to sell a product before settling for it.
2. Set reasonable targets
The truth is, regardless of the level of commitment you pour into your side business, you'll be strapped for time since you have a full-time job.
You can always sacrifice some extra hours of sleep to work on your online business, but this can easily lead you to burnout, and both your day job and side hustle's productivity can suffer.
The key is to start with small targets. Set realistic goals based on the time and commitment you can give to meet those objectives.
An excellent strategy to help you set realistic goals is to use the SMART framework, which requires that your objectives be:
Specific. Identify and define the targets that you want to achieve.
Measurable. Determine how much you want to increase or improve through your goals.
Attainable. Set realistic targets based on your available resources, skills, and level of expertise.
Relevant. Focus on objectives that matter to your most, including your core principles and values.
Time-bound. Set deadlines, so you have a clear timeline.
Set SMART goals to help you qualify and quantify your progress in meeting your targets.
Small, realistic goals might not give you a billion-dollar company right away, but these can leave you in a better shape to establish long-term success and drive sustainable business growth.
3. Create a calendar and organize your to-dos
A growing side hustle can easily lose momentum if you don't prioritize your tasks and lose sight of your most urgent to-dos.
After all, it's easy to say you'll work on your online business Mondays, Wednesdays, and Fridays from six to nine pm, but actually doing it can be challenging when you come home after working eight hours straight.
Establish a system of accountability for yourself by creating a calendar. Block off the dates and hours you dedicate to working on your online business.
Use simple calendar tools such as Google Calendar to create and schedule your tasks and transition to a task management software when your operations and business grows.
For instance, the workflow management tool Paymo (which also integrates with Google calendar) lets you organize your tasks within each project.
The task list page shows your to-dos, the assigned person, due date, priority status, and the number of hours the assigned person has worked on the task.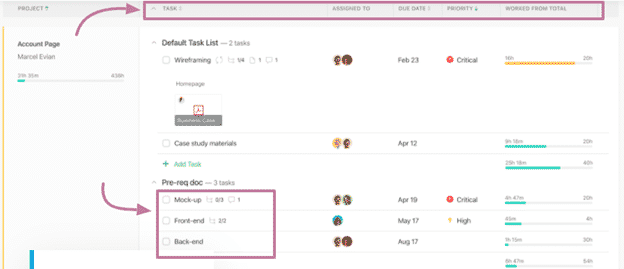 Image source: thedigitalprojectmanager.com.
A task management software lets you create tasks and add necessary details to help you track each task's progress, monitoring them in real-time easily.
This helps you manage and accomplish your to-dos more efficiently, improving your accountability and productivity.
4. Outsource when you can
One of the benefits of maintaining a regular job while running a side hustle is having a steady income that you can use to outsource crucial tasks you don't have the time or the skills for.
Some of the key tasks you can outsource include:
Administrative and bookkeeping tasks. Unless you're an accountant by day and an online entrepreneur by night, managing your side business' books can be a long, tiring, and prone-to-errors process. Get someone who's reliable and has the expertise to do it for you.
Order fulfillment and packaging. If you don't have the proper logistics required to package your products and fulfill orders, work with fulfillment partners instead. This way, you won't need to handle actual inventory, storage, packaging, and shipping yourself.
You don't need to do everything on your own. Leave it to the experts and freelancers and outsource your critical tasks.
5. Leverage automation
Automate your tedious and repetitive tasks to help streamline your online business operations, allowing you to focus on your side hustle's core and more crucial aspects.
Some of the tasks and processes you can automate include:
Email flows. Use email automation platforms to streamline writing, designing, and sending emails, such as order and shipping confirmations.
For example, integrating Mailchimp into your ecommerce website allows you to set up automated order notification emails triggered by customer activities on your online store.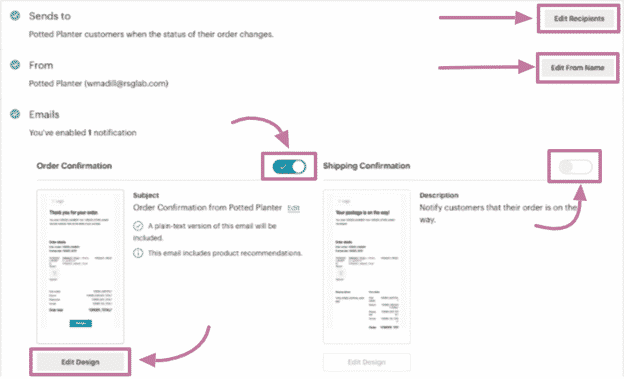 Image source: Mailchimp software.
Add your recipients' names and email addresses, modify the subject line and content of the confirmation email, enable the notification, and you're good to go.
Social media management. Expedite your social media content creation and publishing using software that lets you create, curate, and schedule posts, and the tool will automatically publish them on your designated dates. Automation can take your social media marketing campaigns to the next level. It can help you generate mounds of engagement, leads, and sales on autopilot.
Save time and effort while ensuring your business's manual and critical processes run smoothly using the right automation tools.
Final thoughts
Running an online side venture can be equal parts rewarding and challenging, but as long as you're willing to put in the work and consider the tips in this guide, you'll be on your way to success.
So buckle down, stay motivated, and keep hustling. Remind yourself why you do what you're doing and find ways to reward yourself for your hard work once in a while.
Latest posts by FreelancingGig
(see all)