If you are a manager, you certainly know that keeping good employees is more challenging than finding them. Engaging them becomes especially arduous when the work is entirely remote.
The consequences of a disengaged workforce?
You might end up losing up to $17.5 million a year.
Most of you are still trying to keep your remote staff engaged. That is despite the fact that the majority of the workforce has accepted remote work since the Coronavirus pandemic hit the world.
Since the emergence of the pandemic, the average employee has begun putting in at least three extra hours at work.
This abrupt move to remote work has left 75% of workers feeling more lonely, 57% apprehensive, and 53% emotionally fatigued. Remote employment necessitates a rethinking of employee engagement, which is the problem we're attempting to solve in this article.
Corporate volunteer initiatives have been put on hold as a result of so many corporations working remotely. Despite the fact that the pandemic has caused more people to work from home, organizations still need the vital support that the corporate sector can provide.
In this article, we will talk about nine ways to engage remote team members in charitable efforts. These suggestions will help you enhance your company's charitable giving, along with employee engagement in remote work conditions.
Nine Ways To Engage Remote Team Members In Charitable Efforts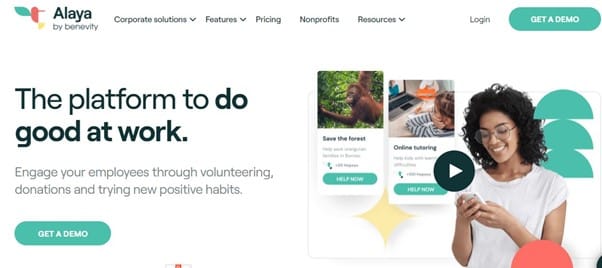 As per a study, the most important reason for offering a workplace giving program is to give back to the community. In fact, 75% of people cited this as the most important reason, and 46 percent agreed that such programs align with their company's core values. Moreover, 40% cited employee retention and engagement as a top reason, especially for the younger generation.
You can kickstart your employee giving program using tools like Alaya. It can assist you in selecting from a variety of employees giving choices that are meaningful. It will also empower employees with more tools to make a difference.
Their workplace giving tools and platform can assist you in your attempts to support the community and accomplish your corporate social obligation objectives.
Nike is an excellent example of a corporation that is attracting young talent through its employee gifting program. Their employee benefits are "among the best around," according to their job advertisements, and it includes a variety of Goodness programs.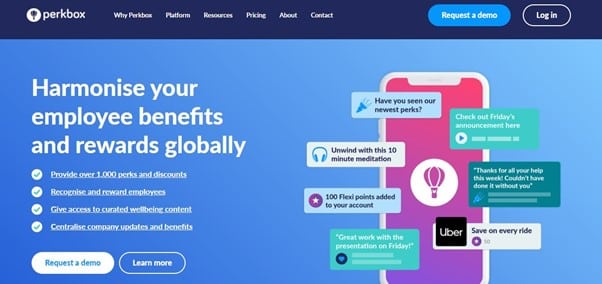 Who doesn't appreciate a good deal? Employee discount programs are quite popular, and it's obvious to see why.
Giving employee discounts to staff is incredibly simple and cost-effective for organizations. Workers can save money on just about everything with the correct employee discount program, depending on how comprehensive the reductions are.
Additionally, saving money can also motivate them to contribute to charitable programs.
Perkbox discount program is more than just your average Sodexo coupon. With their employee engagement solution, Perkbox takes a comprehensive strategy and offers employee discounts. These discounts will get everyone thrilled and improve employee engagement.
You can offer gym memberships to your staff at well-known gyms such as Virgin Active and Pure Gym. It also offers discounts on gym equipment. Each of your workers will receive monthly credits that they can redeem for a variety of Flexi Perks when they join Perkbox. Flexi Perks are benefits that workers can use at any time.
For example, employees can enjoy free beverages and nibbles from Caffè Nero and Greggs. They may also redeem the perks to use at Uber, Uber Eats, Asos, and other services are available to your employees.
If your business has a charitable giving fund, have team members research local charities and vote on where to donate. The objective is to have them spend five to ten minutes learning more about each group.
This helps them understand the community efforts and needs in their immediate vicinity. This activity helps them become more conscious of the situation and motivated to assist with future initiatives.
Contemplate whether you can volunteer in a way that complements your company's mission. This automatically engages your staff and adds meaning to their work.
For example, if your business specializes in digital marketing education, nonprofit organizations can benefit from your volunteer services and free training. You may offer free training to government employees during the closure. This allows you to make the most of your abilities while simultaneously giving back.
Offering rewards to employees who showcase the best efforts in volunteerism is a great way to enhance employee engagement. It shows them that you support them for good work and also encourages other employees to put in their best efforts. This increases workplace morale and is great for your company's public image.
Allow each member of your staff to take one day off per quarter to engage in a volunteer activity that they can utilize whenever and however they wish. If and when they participate in the volunteer day, they must take photographs and prepare a presentation about what they did.
Have everyone exhibit their volunteer work at the conclusion of the quarter, and reward the best one.
Everybody on your company's team should be familiar with matching gift schemes in an ideal environment. You'll have the resources and time to include matching gifts into your overall fundraiser campaign if you choose an expert to oversee your team.
If you hire a matching gift specialist, your nonprofit will be better prepared than if everyone on staff knows a few basic facts regarding matching gifts. Although the coordinator is the expert, the rest of your team should be able to answer the questions they can and pass the rest along as needed.
The matching gift specialist is the official point of contact for any matching gift questions and issues, as well as the staff member in charge of seeing that the donations are completed.
While working remotely, your employees may still volunteer and 'give back' from home. Find ways for your staff to use their specific skills rather than taking on generic volunteer projects.
If you're in charge of a marketing team, for example, check to see if a nonprofit requires assistance with its social media activities. Both the nonprofit and your team will benefit from this.
Make it a part of the team's DNA. Have people demonstrate how they have supported a charitable or volunteer opportunity of their choice, or one that the organization provides, on a regular basis.
Offer a matching worth of products as a reward if your budget allows it. Another option is to hold live, online events to raise funds for projects in neighborhoods, schools, or wherever else you prefer.
Donors want to know that their contributions are significant to them and that they are making a difference.
Personalization in charity interactions has been demonstrated to have a significant impact on fundraising. In a study conducted by Accenture in 2017, 44 percent of contributors agreed that a customized experience will make them inclined to pay up to 10% more. For millennials, the percentage rises to 62 percent.
You can organize quarterly events to benefit local charities at the place where your employees are working from. It will turn out to be successful because all of the staff are local. It will also help in the word-of-mouth marketing of your company.
If it's a national team, check at some of the more personalized charities, such as children's charities. It may be related to the workers' origins and may have impacted them. That way, they'll be more likely to believe in the concept before the event.
That's all for this article. Hopefully, the aforementioned suggestions will help you engage your remote team members in charitable efforts. Remember, a disengaged team of employees can cost you up to $17.5 million a year.
You can set up goals for the number of employees who participate or the amount of money you expect to raise in a year. This will help you in driving engagement, and tracking and reporting results.
As the old adage goes, what gets evaluated gets regulated. Therefore, setting metrics and analyzing results on a regular basis is the best approach to ensure a successful and impactful strategy for both, the organization and the community.
Author name: Tuba Sarosh
Latest posts by FreelancingGig
(see all)