Data breach cases surged dramatically as the number of online activities rose since the COVID-19 pandemic. People have increased their reliance on the internet in many aspects, but it's worth noting that the cyber world doesn't guarantee user privacy.
A website owner should be extra careful with personal details on the internet, since identity theft can happen just by knowing domain name information. That's why many registrars offer a domain name privacy option to protect site owners.
This article will explain how domain privacy works and how to implement it for your privacy protection. You'll also find three examples of domain privacy tools for reference. Let's get started!
The Internet Corporation for Assigned Names and Numbers (ICANN) is a non-profit organization that coordinates and maintains internet namespaces. It manages Internet Protocol (IP) addresses and Domain Name System (DNS) root servers to keep the internet stable.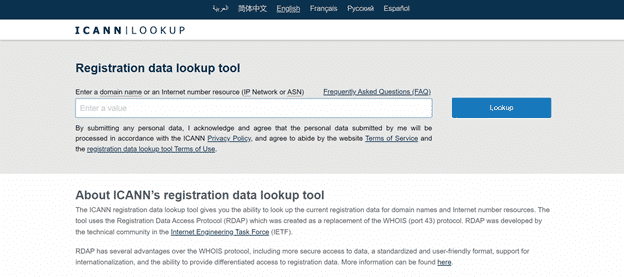 In relation to domain privacy, ICANN also maintains the Who is responsible for this domain name (WHOIS) database for domain name registrations. This contains personal information about domain name owners, such as the registrant's name, email address, business address, and phone number – and it is publicly available.
The reason for displaying the domain registrant's contact details is to help people resolve any dispute or administrative issues related to the domain name. However, there's no guarantee that this public database is used only for dispute resolution and not for misuse by malicious parties.
Therefore, domain privacy protection comes as a service to hide your personal information in the WHOIS database. If you activate it, your domain registrar will show their information instead of yours on the database.
How to Implement Domain Privacy to a Website
ICANN will make your personal details publicly available by default, as domain privacy protection isn't automatically activated in some registrars. Therefore, this section will cover the steps to implement domain privacy to your website.
If you want to create a new website, many web hosting plans include a free domain name. Ensure that your preferred hosting provider offers this domain privacy service to simplify your website creation process. However, note that you might have to pay around $1–$12 annually for this service.
In case you already have a preferred domain registrar, check if they implement a domain protection policy. Most domain registrars include the protection fee in the domain name pricing plan, whereas some charge an additional fee.
Conduct your research carefully about each registrar's policy and pricing to avoid paying higher costs for hidden fees or price jumps.
If you already have a domain name idea in mind, don't forget to check its availability using a domain checker. Also, make sure that there isn't any trademark registered under your preferred domain name to avoid unwanted disputes in the future.
If your desired domain name isn't available, you can use another domain extension. Aim for top-level domains (TLD) to improve the domain authority. However, note that according to the rules of some domain registrars, not all TLDs can get privacy protection. So, make sure to double-check their policy.
Once you have chosen an available domain name, follow the registration process and complete the payment. After that, verify your domain ownership by following the instructions sent to your email. If you skip this verification process, your domain name won't be found on the internet.
Some domain name registrars allow you to activate domain privacy protection upon registration. However, if you miss this step, you can still activate it later via your domain account.
Enabling domain privacy is generally straightforward, even though every registrar has a different user interface. Once you have a domain name registered, log in to your registrar account, navigate to the dashboard, then choose the domain management option to find the domain privacy settings.
Many registrars also display information about your domain privacy status directly on the dashboard. In this case, you can activate or deactivate it just by clicking on the toggle button.
Domain Privacy Tools and Services
If you have to find a separate registrar from your hosting provider, this section will explore three domain registrars that provide domain protection services.
Google Domains offers domain privacy upon registration at no additional cost. Depending on the domain name extension, prices start at $12 per year, with the same renewal price and no hidden fees.
Google Domains allows you to connect domain names with Google Workspace accounts. You can also register up to a hundred subdomains and integrate them with your chosen website builders like Shopify, Wix, and Weebly. That said, Google Domains can be a suitable option for users who count on the Google ecosystem in running their business.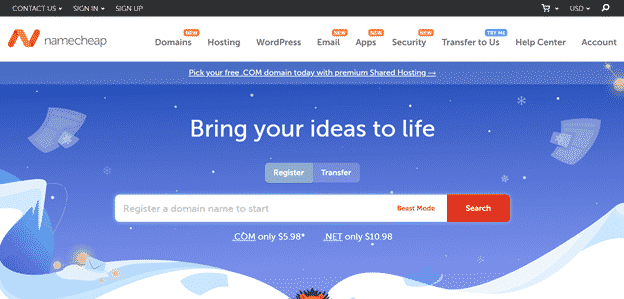 As the name suggests, Namecheap offers relatively cheap annual domain name fees. Like Google Domains, they also provide free lifetime domain privacy protection. You can set this up easily via the dashboard and see its activation status on the right side of your domain name list.
For extra protection, Namecheap offers man-in-the-middle-attack prevention by authenticating domain name IP addresses using free Domain Name System Security Extensions (DNSSEC).
The registration price for Namecheap starts from $2 per year, but pay attention to renewal costs as this may differ.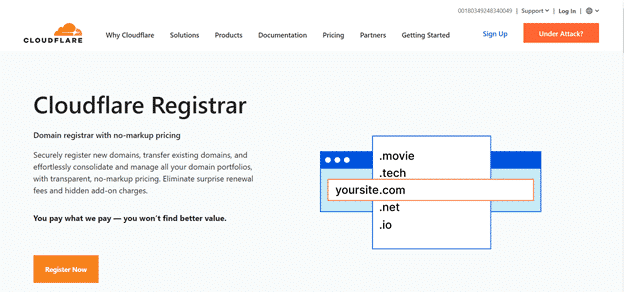 Cloudflare Registrar includes WHOIS protection and custom domain protection in the registration fee, and they activate it by default. Furthermore, they ask users to set up two-factor authentication to ensure login security.
Opt for Cloudflare Registrar if you use Cloudflare services for your website's security for easier integration to the ecosystem. Another reason to choose this registrar is that there are no margin or service fees, so users essentially pay for the ICANN registration fee only.
Not many website owners know that their contact information is publicly available in the WHOIS database. This can cause problems, especially for business owners, as most data breach cases are financially motivated.
Therefore, getting domain privacy protection helps prevent various attacks, such as identity theft and data leaks. Ideally, a domain registrar provides this protection for free, but sometimes you'll need to pay extra. Conduct your research to find the most reliable registrar to give you the best security.
Once you've purchased domain privacy protection, ensure that it is activated. While some registrars enable it upon purchase, others require users to activate it via their domain accounts.
We hope this article helps you find the best solution for your domain privacy protection. Good luck!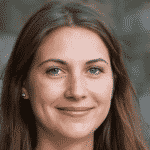 Juliet is an Editor at PRable.org, all in one content marketing agency. She loves creating articles about technology, innovative product reviews, and technical writing to help scale up digital growth. She is a writer by day and a frustrated singer by night.
Latest posts by FreelancingGig
(see all)