Over the last few years, to be precise the last two, there has been a major shift in the working mode.
We understand the '9 to 5 job' versus 'freelancing' debate is an ongoing one that is here to stay.
With the current inclination towards building and growing your freelance business, the shift towards remote work life has become really important.
According to one of the recent statistics, there are about 57 million freelancers in the USA.
The trend of remote work has paced up, and with that the need for a boost in overall productivity levels have also generated multiple rounds of discussions.
Luckily there are many SaaS tools that help the freelancers work effectively while maintaining their sanity.
Top 6 User-Friendly Saas Software that helps you transform your freelance career
The word 'freelancing' could mean different things to different people but all freelancers have one thing in common — the need to remain at the top of their game.
And the work is half-done if they have the required set of tools to make their work life simple and hassle-free and further enable them to enhance their workflow as a freelancer.
Here are the top six software that can help you switch to a freelance career from a full-time job in no time.
1. Pitch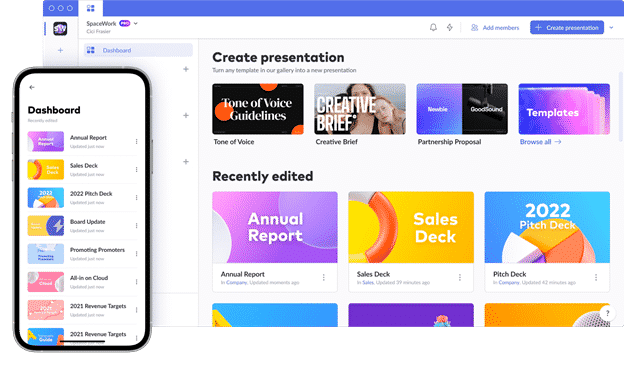 If you're in need of a well-structured pitch deck, you can easily make one with Pitch.
You can select any pitch deck template from the Pitch's gallery of sample pitch deck presentations. Few clicks can share your big ideas with potential investors, clients, and stakeholders. Your teammates can also collaborate with the pitch deck to enhance your company branding.
After a successful pitch deck presentation, you need holistic sales decks that sell your product in any mode — whether you're selling over Zoom, in a room, or via email. You can create a seamless workflow of the sales deck by editing and customizing together with teammates. Live links will ease your worry to send rich media with the latest edits.
You can customize your project by considering any one of the sample pitches including, marketing, design, proposal, startups, reports, creative, simple, and professional pitches.
Pitch from any device — Mac or Windows/iOS/Android.
Collaborate with your team members or clients through live video sessions.
Assign slides and share feedback with teammates.
Make your slides visual by integrating Unsplash, Giphy, Icons8, and Brandfetch.
Offers multiway possibilities to connect with your teammates including, live video meetings, sharing live charts, embedded videos and graphics.
Customize your pitch deck for varied requirements and proposals.
Pitch has free 'Starter', paid 'Pro', and customized 'Enterprise' plans. Pro plan starts at $8 a month for one member.
2. Osano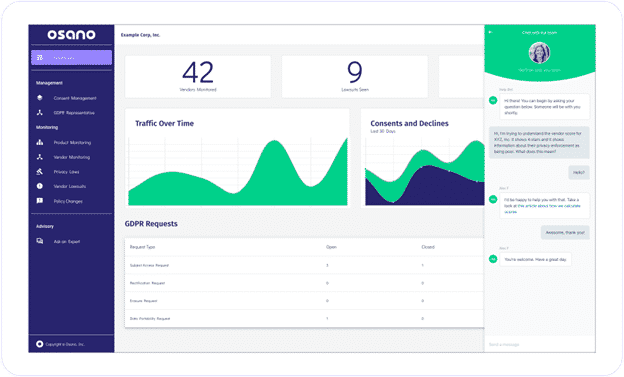 Osano is a growing team of attorneys, technologists, and business leaders assessing data privacy practices globally.
The CMP (Consent Management Platform) alerts you when a new third party is loading a custom privacy policy. It covers data privacy laws of 40 different countries and considers consent dialogs in 42 native languages.
Sometimes companies change the privacy policy without explaining the details or giving a notice. It stores the previous version, and users can understand the changes by comparing the new and old versions. You can get the company's new privacy practices from Osano's guide.
Do you believe your vendor is following your region's lawsuits? Osano gives you the instant update of law-abiding vendors in your region. It alerts you about changes in local, national, and international lawsuits.
Osano has a package bundle that will update you with custom and global privacy policies. Osano can help you with custom privacy policy, employee training, DPIA, and creating a custom project.
Easily manage the data subject access request, whether it's one or one million.
Classifies and evaluates all your data from its AI-driven Data Discovery system.
Your vendor risk is monitored regularly by Osano's experts. It will make you aware of who falls short of privacy policies and who is working fine with them.
Osano's data privacy consultants can make a customized privacy policy for your organization.
Osano has free 'Developer', 'Small Businesses', 'Growing Businesses', and custom 'Enterprise' plans.
Small Businesses, Growing Businesses, and Enterprise plans start at $99.99, $199.99, and $549 respectively per month.
3. Userlane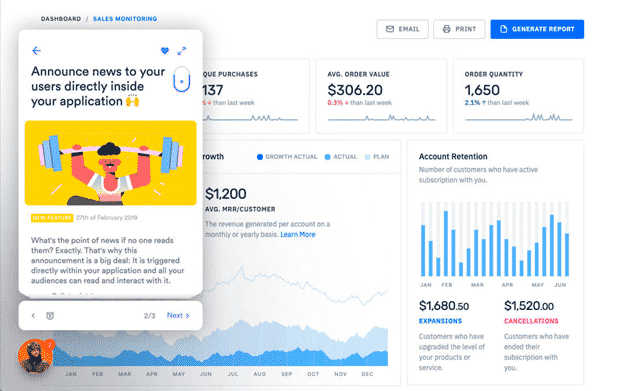 Userlane has a user-intuitive and self-explanatory guide that eases the workload of your employees.
The workflow guidance supports users in every small process and provides the right content in real-time.
You can enhance your remote worker employee experience by creating and maintaining support content in real-time. You can analyze employee performance by tracking interaction rates and see what type of content works best for your employees.
You can augment the software adoption process by adopting a tailored communication and a customized software journey. You can enhance your user guide with exciting new content, updates, surveys, new features, and integrating videos, images, GIFs, and external links.
Accessing an interactive user guide doesn't require coding at any moment of your work.
Anybody can create and maintain a user guide by integrating hover, click, autofill and many more elements.
Enhance engagement by sending quick messages, applications, feedback, and a support system.
Provides transparent user analytics to identify acceptance, optimize guide success, and track engagement.
Onboards your employees, reduces support tickets, and augments user satisfaction.
The code-free editor will augment content creation with intuitive on-demand assistance.
Offers services for companies ranging from 500 to 500,000 employees across different industries.
Comes with a customized 'SMB' plan for small organizations and a customized 'Enterprise' plan for large organizations.
4. GoToMeeting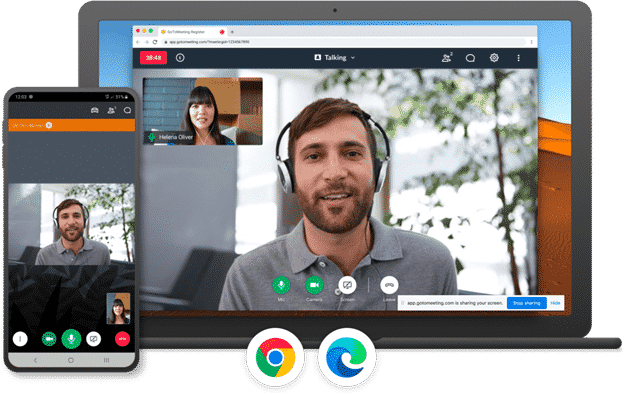 GoToMeeting provides employees with an intuitive tool that delivers best-in-class communication, whether working from home, in public places, or an office environment.
Your business meeting cannot be interrupted in between because it has centralized user management and remote deployment options enabled within it.
Your employees also have easy access to virtual meetings where anyone can communicate easily and enhance productivity.
The best part is you will get a uniform experience across any device, whether a desktop, web or mobile application. You can have hassle-free virtual meetings even if you have low network bandwidth.
Secured content sharing with TLS-encrypted in transit, and AES 256-bit encrypted at rest.
Uses an SRTP with AES-128-HMAC-SHA1 based protocols to encrypt audio and video to protect your privacy and data integrity.
Has a passcode-protected meeting, and you can remove any person if you don't recognize them over the call.
Create a custom meeting link to invite attendees to your personal meeting room.
Record the meetings locally or in the cloud.
Analyze meeting performance on an individual level.
GoToMeeting comes with three different pricing plans: Professional for 150 participants ($12), Business for 250 participants ($16), and Enterprise custom for more than 3000 participants.
5. Bitrix24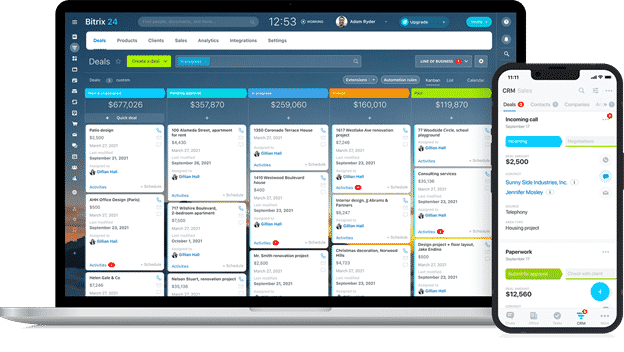 Bitrix24 has a seamless integration of communication channels, Customer Relationship Management (CRM) systems, tasks or projects, contact centers, and sites and stores. You can create a conference, enable public and group chat, and track employees with an online time clock.
The tool will automatically assign the sales reps jobs by integrating a lead scoring CRM tool. You can build your website by selecting an industry-specific templates gallery.
Get access to an automated workflow.
Access all files from a central entry point and bring all projects into one shared space.
Get faster results with a variety of communication options.
Get free inventory management in CRM, messenger-based sales, and Scrum for project collaboration.
Complete control over data, source code access, helpdesk & e-learning integrations and customizations.
Bitrix24 has a monthly 5 GB & unlimited users 'Free' plan, 24 GB & 5 users Basic plan ($39), 100 GB & 50 users Standard plan ($79), and 1024 GB & unlimited users Professional plan ($159).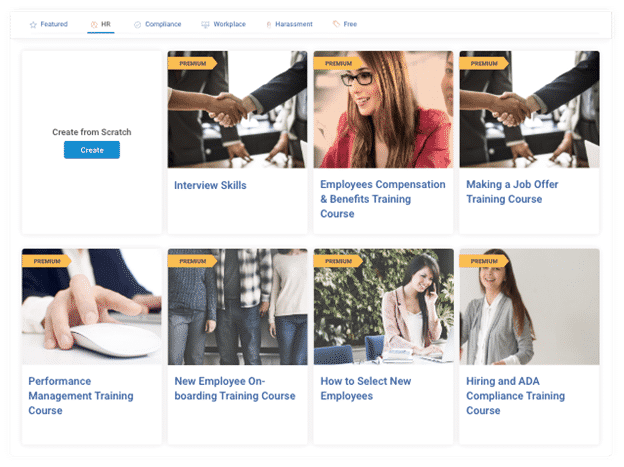 ProProfs Training Maker works on cloud Learning Management System (LMS) for enhanced training to large groups. You can track the progress of each individual with AI-generated training reports.
It supports several software integrations including, online communication tools, email marketing tools, and CRMs. The integration will help you stay in the training maker without switching to another platform.
Proprofs Training Maker has customized templates for various courses including, induction training, sales training, marketing training, finance training, communication training, technical training, and other industry-oriented training.
You can easily customize your training classes with AI-powered reporting.
You can access 100+ online courses from the library, including HR, compliance, Employee education, sexual harassment, customer service, and other industry-related courses.
Integrate quiz, survey, and knowledge base software into your training courses.
Supports more than 70 languages.
ProProfs has Essentials, Premium, and Business + plans. Essentials, Premium, and Business + start at $1 one learner/month, $2 one learner/month, and $ 4 one learner/month respectively.
The above mentioned SaaS applications are a must have in the list of every freelancer to excel in their career.
Have you discovered any user-friendly and cost-effective tool that we haven't mentioned in the article? Let us know in the Comments section below.
Featured Image Source
Latest posts by FreelancingGig
(see all)