"Remote work is the future of work." –Alexis Ohanian, Reddit
Why should you structure your remote team?
Working remotely is the latest shift in work culture. It is no more a trend but has become a necessity. Many team leaders and managers are now trying to manage and structure their teams working remotely. Work policies and training programs may help your remote teams understand what is required of them. However, it isn't feasible to always have a smooth functioning in and about your remote teams.
Recent research shows the effects of remote work on employee interconnectivity. Without a proper structure, work efficiency by your teams that work remotely will soon be out of the window. Therefore, you must know actionable tips that will get your remote teams to deliver the best results.
10 best tips to structure your remote teams
More and more companies are adopting modern ATS platforms. Not only does this platform make recruitment easier, but monitors the results of the candidates. With the help of the always developing AI and cloud computing systems, your company can streamline the hiring process.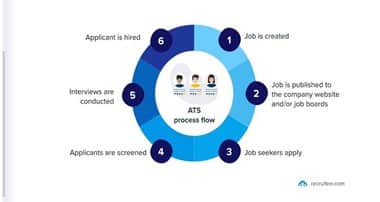 The Applicant Tracking System makes it easier for HR managers to spot top talent and retain them in the company. You can predict the success of your company by improving the quality of the employees you hire. The benefits of an ATS are:
Better candidate experience
An efficient and advanced recruitment process
Decreased work pressure
Better quality of new hire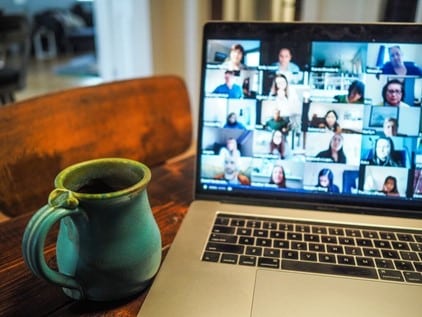 You should check in with your teams as often as possible. Make the best use of technology and schedule one-on-one sessions or a team video call. Services like Zoom, Google Meet, and Microsoft Teams have made this easier. This simple step will provide a beneficial structure to your team where all members stay connected and help each other with the needed resources and feedback.
The benefits of video conferencing with your remote teams are:
Keeps your team connected to your company and colleagues
Updates employees on the latest happenings in the company
Provides a better communication channel for employees to collaborate on projects
Makes the teams working remotely more productive
Helps in delivering training programs via virtual technologies
Increases employee attendance
The lack of a formal environment, be it the timings or the work desk, will make your employees demotivated. It is suitable to have a structure and a set of practices/guidelines for them to adhere to, no matter where they are. Some of the structural guidelines that you can set are:
Set strict deadlines where there can be exceptions occasionally
Define your priorities for the company
Give detailed instructions on how to get work done
Track the time your employees are spending on tasks
Have regular meetings and ask for updates
Give feedback and have regular performance assessments
Track the progress of projects using project management tools
It is impossible to avoid unprecedented household chores and other unforeseen events. Someone with a toddler or a senior citizen at home will have to take breaks from work to pay attention to them. As the leader of the team, it will help you to empathize with your team members. Give them the freedom to work at their own convenient time, provided they get the work done.
Forcing your remote teams to work at a designated time will only add to their stress and may hamper their productivity. You can use a time management tool to track the time your team members are investing to complete the project. This will help you know who exactly is dedicated to working.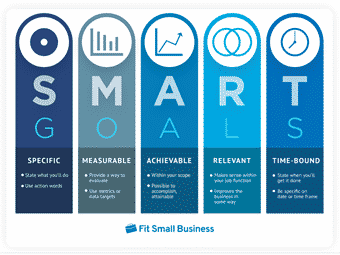 You should have SMART(specific, measurable, achievable, relevant, and time-bound) goals set for your remote teams. It is easy for employees to go haywire if they do not have goals to achieve. When the team is focused on the target, working towards its fulfillment becomes effortless.
Working remotely takes away the opportunity of getting feedback in real-time. The chance to watch how other employees do their work and learn from them is also missed. To compensate for that, you can have online training sessions where your team members can learn a thing or two from each other. You have people taking sessions for topics in which they are experienced.
Schedule meetings with individuals or with a specific team to give them feedback where needed. In a group meeting, make sure that constructive feedback or criticism is allowed. Once they are aware of their pain points, your team will work harder. Feedback and training sessions are two key factors if you want to structure the best remote team.
'All work and no play' will surely affect the physical and mental well-being of your team members. As they are deprived of face-to-face interactions, the closest experience they can have is indulging in team-building activities. Storytelling, trivia, team workout, baking sessions, etc are all some great activities that your team will thoroughly enjoy. New members of your team will find this a great opportunity to open up.
Not everyone in your team will have the resources to set up a similar desk at home as they did back at their office. Ergonomic chairs, high-performance laptops, good-quality headphones, a stable wifi connection, and more are some of the must-haves of any work-from-home setup.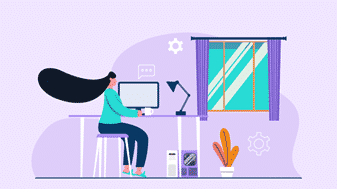 To retain the best remote teams in your company, ensure that they have access to work-like facilities from the comforts of their home. Without these, your employee may look for better opportunities in other companies that offer such equipment.
Every manager should be able to manage their team. Working with a remote team requires constant communication with each team member. When you have a smaller team, you will have a better communication channel. This will ensure that the quality of work is not compromised.
A good rule of thumb that can be applied here is to have a group of 4-8 employees reporting to each manager. More members in simple work profiles and fewer members in specialized work profiles.
A strong sense of trust can power everything that takes place in your company. Working remotely is already a difficult task, but having a team that trusts each other and is transparent in their work can make working enjoyable and profitable. Structure your remote teams in such a way that they are seen as a single unit in all ups and downs.
Celebrate milestones and important dates together. Create channels where all teams can view the progress of each project. Schedule all-inclusive meetings where feedback, failures, successes can be shared without any hesitation. Trust and transparency should be at the core of your remote team's dynamic.
Closing out on structuring remote teams
At the onset of the global pandemic, nobody expected remote work to last as long as it has. Some enjoy working remotely, while others find it difficult to adjust to this new working style. By implementing the tips discussed above, you will be able to structure your remote team properly. With motivated employees who enjoy working remotely, your company will be able to accomplish projects well ahead of its deadlines.
By B Naomi Grace
Latest posts by FreelancingGig
(see all)