Video games can be relaxing and intriguing, and one of the most popular video games these days is League of Legends. You can enjoy a fun, fast-paced, strategic game with your significant other in a way that's different than playing the game alone. With this blog post, we will not only show you how to set up a mutual account but also offer advice on how to communicate effectively as an online team.
However, there are many things that you need to know before jumping into the game with your SO. Think about things like the latency and machine loads in your lane and team. Look for any differences in their play style, communication skills, and problem-solving abilities. If you feel that this teammate is right for you, then set up a mutual account with them!
As a team player and as friends to communicate with online, we want you to be able to enjoy the game together. We will now go over a few tips so that you can learn how to win a game together. This can be your key to victory because communication and teamwork are vital aspects of the game. Moreover it may be important to have an account that compliments the strengths that you and your SO have. You can either create such an account or buy it.
Teamwork and Communication
Communication is vital when playing video games. Teams will win or lose based on how well they communicate and work together as a team. To be able to enjoy the game with your SO, it's ideal to know what to say and what not to say, since there are many players who are simply bad at reading other people's intentions. Knowing when to take action and when not to take action is also essential for winning games.
There are many aspects of League of Legends that affect how the game is played. Game play strategies, team compositions, and strategies for specific champions in a match will all vary from one match to the next. Knowing what works and what doesn't work during a game will help you to win more battles. If you don't know which option or champion combo works or not, then use this as an opportunity to learn from recent games and figure out what you should be doing so that you can avoid the mistakes your opponents made.
Why you should set up a mutual account in League of Legends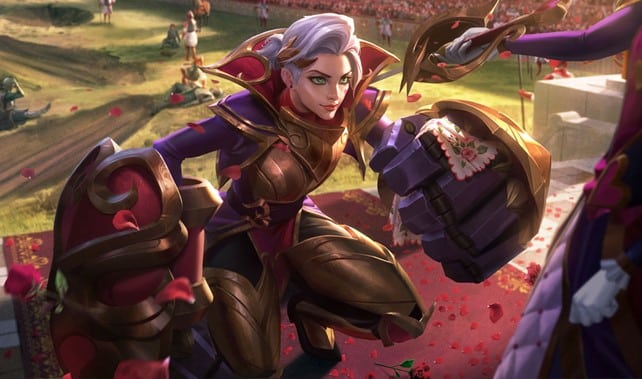 First off, set up a mutual account that's separate from your personal one. This will allow you to enjoy the game while playing as a team. If you are playing with your SO, you can communicate to and ask each other questions in a more casual manner. This is also the best way for you to actually learn to play the game better and communicate better with your teammates. As you progress in games, you will gain more confidence, which will lead to teamwork and communication skills for both yourself and your SO.
If you play with your SO, you can also set up a custom match so that you can practice specific strategies or champions. If you want to be familiar with a specific hero or team combination, then use this opportunity to play different teams and see what works best for both of you.
Team compositions change in every game, so it will not be easy to go just by the book. You will need to make adjustments as the game changes and remember to communicate with your team about what's going on. It may seem like a lot of work, but it gets easier as you get better at the game and learn each other's strengths and weaknesses.
You also need to be able to take criticism from your SO, and you will have to help them in the same way. Your SO will not be perfect-they make mistakes just like anyone else. If you do better than them in one part of the game, then you must also help them when it comes to the rest of the game. Your SO may need to learn how to play different champions, so encourage them to do so and try it out with them. By knowing how your SO plays, you can create strategies that are geared towards their strengths and weaknesses.
Now that you know a few tips on how to communicate in-game and what to communicate, we want you to be able to set up a mutual account on your own. You can go over the steps below at your own pace as we explain each step in detail for you.
Setting up a League of Legends Account
Now that you are ready to play with a mutual account, the next step is to create an account and buy in-game shards. To do this, you can go online to your preferred gaming site. You can either find the link on your game's website or type it into your browser. You can also visit Unranked Smurfs site and purchase a custom made account for you and your SO. Here you can get custom account, items to use in the game and even tips on how to play and level up your account.
By creating a custom account you can create an account that works the way you want it to. It's only natural to want to play with an account that compliments the things that you are good at. You can also create an account by playing off of your SO's strengths, thus providing each other with a mutual experience and understanding of how the game is played.
When you create an account, you will be able to buy in-game shards. These are special Riot Points that you will use to purchase League of Legends skins and champions. You can either visit any site that sells Riot Points and purchase them there, or if you are playing with your SO then you can use their RP for the account.
How to secure the account
it is important to secure your league of legends account in order to ensure that your progress in the game is saved . It is easy to create an account and log in, but if you don't save your progress and password, then you may lose all the time that you spent leveling up.
To start this process, click on the sign up button on the home page of League of Legends. You will need to fill out some basic information before creating your account.
1. Log in to your League of Legends account [https://euw.leagueoflegends.com/en].
2. Click on "Customize" from the left-hand menu, and then click on "Profile."
3. Click on "Add an Email" from the top drop-down menu, and you will be taken to "[https://euw.leagueoflegends.com/en/customize euw.leagueoflegends.com]s My Account page."
4. Add your email and link it to your account by verifying it in the link sent to your mail.
You have now secured your account and you can access it through your email even when you forget your login credentials. Securing your mutual account will ensure that the experience and moments that you share on the game do not all go to waste and that you can always access and back up your progress.
Bottom line
We hope that if you follow our research, you can get better at League of Legends and enjoy it with your SO. Practice makes perfect, and by following these tips, you can become a better player and create more fun in-game. Remember to be friendly and welcoming to your teammates; this makes it easier for you to communicate in-game as well as make it more enjoyable for other members of the team.
Latest posts by FreelancingGig
(see all)