Waking up at whatever time you want then sitting in a cafe drinking coffee and doing some important work on your laptop, earning good money and indulging yourself. Does it sound like a dream life? Maybe yes, others also call it freelancing.
Such benefits as not going to the office and creating your work-life balance are appealing to more and more people.
Embarking on the path of freelancing isn't an easy task, though. So let's take a look at the difficulties that may arise.
Challenges that freelancers face
Attracting clients
The first and one of the main hardships for every green freelancer is finding customers and people to work with. But the good news is that once you manage to find your first clients you will be able to establish a word-of-mouth reputation. However, how and where can you find them? The answer is simple, try out marketplaces which are the platforms where vendors can come together to sell their products. There you will be able to create a great portfolio, gain experience and earn your first money freelancing.
Communicating with customers
Once you have found your clients, you should communicate with them. Sometimes employers have a clear plan in their heads, but can't communicate it properly or want a designer just to guess or read their thoughts. This issue is especially common among companies that aren't used to working with freelancers. In this case, you should set boundaries at the beginning of your work and tell your clients that to get the best results, you should share your thoughts. Or you can also come to the option of choosing a marketplace, where you should upload your works and wait for someone who will be interested in them.
Getting paid on time
One more challenge that a freelancer can face is ensuring that services will be paid. Nothing is getting on nerves more than waiting for payments and constantly reminding clients about them.
To receive a stable payment, you should consider working for a reliable marketplace that has approved its trust and credibility during several years of work. When a person comes to a marketplace and makes a purchase, the platform automatically gets money that will soon be sent to you.
Considering the listed challenges, one of the best solutions for a green freelancer is finding a marketplace for uploading his or her design works. Their purpose is to help small businesses reach a wider variety of customers. Along with saving your time and easing the process of finding clients, marketplaces seem to be reliable as the process of purchasing is quite simple: you upload your works, people who are interested in your service buy them and you get money into your account that you can withdraw at any time.
MasterBundles can be your first marketplace to cooperate with. If you are interested in finding a suitable freelancing workplace, continue reading.
What is MasterBundles and what advantages do you get?
MasterBundles is a marketplace for designers, where they can upload and sell their products such as clipart, presentation templates, and various graphic elements. Whatever visual things you do, all they could be sold there. One of MasterBundle's missions is to make creative people wealthy and help them to promote their crafts. That's why they do everything to make the selling and buying process as easy as possible. Go to their website if you want to get to know more about team and foundation.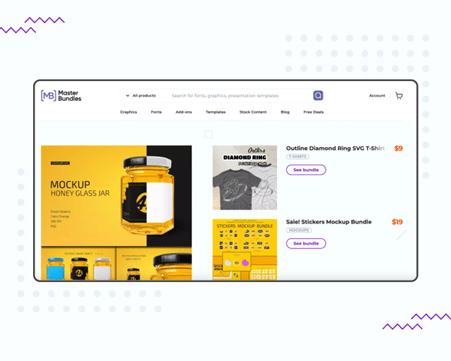 The cooperation process
MasterBundles is a simple platform that doesn't complicate the registration and selling & buying process. Oftentimes selling is done in the following three steps:
1. You craft your designs and upload them on your profile using a sell-your-deal form. When you do this, you should write a description of the product, select tags, and type SEO keywords that will facilitate the finding process as your visual content will be shown in the search.
2. After that you should wait a little bit, as your products will go through a moderation phase that might take from several hours to one or two days. At this stage, your designs are examined and ensured that they meet the quality standards.
3. Then follows an approval, the visuals appear in the search and you start to earn.
MasterBundles also has a vendor rating where they gather profiles that have the most amount of selling deals and quality visual content. When you are just at the beginning of a designer's journey, you can examine those works and see what is in demand.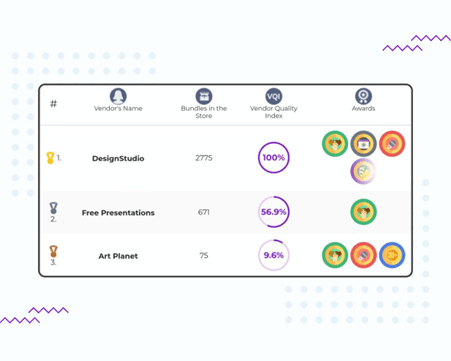 Benefits that a designer gets from cooperation with MasterBundles
Easy process of finding clients and cooperation with them
As was written above, when you sell your graphic designs you use a sell-your-deal form.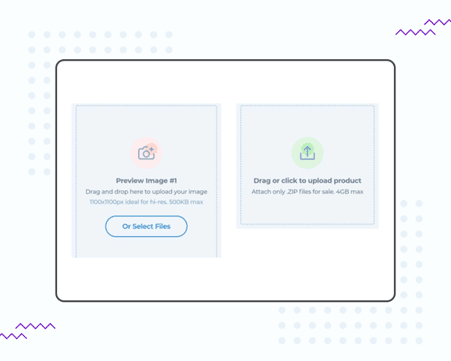 After uploading your works, they are moderated and appear at the marketplace. People just add to the cart and pay. That's it, no communication or promotion. Those who need it will find and buy it.
Besides, MasterBundles has an advantage of a trust factor as clients treat it like a reliable place to buy something. That's just people's psychology. They would rather go on a site to purchase there than ask someone unknown for providing services.
Promotion of your designs
Just like you, MasterBundles is interested in selling your visual content. That's why regularly they make newsletters with vendor's works.
The mailing list itself has 70k subscribers. That's why there is no need to worry that your designs might not be seen or will get lost among other works.
Convenient money withdrawal
As soon as you have more than 50 dollars in your account, you can withdraw the money. All you need to do is to fill in the information according to your bank account and in several minutes you will get the money.
No need to communicate with clients or remind them about payment. Only you and the site operation system that makes everything easy and clear.
Wrapping it up
Stepping on the way of freelancing is a good decision and deserves appreciation. However, the first steps might be difficult for someone who hasn't got enough experience and a word-of-mouth reputation. Marketplaces can be a good help in it. Thanks to them you will save both your time and nerves.
Whatever you decide, we wish you luck in your work search!
Latest posts by FreelancingGig
(see all)