Keeping your business on top of the game is crucial in today's digital landscape. Doing so ensures you maintain an edge over the competition. One of the ways to make this happen is by utilizing various forms of marketing, particularly pay-per-click (PPC) advertising.
For starters, PPC advertising is a form of online marketing in which marketers pay every time a user clicks on one of their advertisements. One of the main perks of PPC advertising is allowing businesses to effectively reach out to a wider audience, target specific audiences, and save money in the long run.
The most popular form of PPC advertising is via search engines, such as Google. It can also be done via social media platforms and display advertising on websites. One way to ensure your business maintains a good standing in a highly competitive industry is to make the most of PPC advertising.
Understanding PPC Advertising
Marketers pay a fee in PPC advertising every time an ad is clicked. In simple terms, you pay for targeted visits to your application, landing page, or website. If you're able to ensure your PPC advertising campaign functions properly, the fee is a trivial expense since the clicks are worth more than what you pay. If you want your brand's marketing efforts to start on the right track, check out Mws.dev and other reputable providers.
PPC advertising allows marketers to bid on specific keywords they want ads to emerge in the search engine results. As users search for those keywords or phrases, the marketer's ad will appear on the top results. A fee is charged to the marketer every time a user clicks on the ad.
The marketing approach involves the creation of campaigns that target specific demographics, locations, or interests. A maximum bid is set for the keywords being targeted. Once everything is ready, the search engine utilizes an algorithm to choose which ads to reveal and the order. In most cases, the algorithm will take into consideration the bid amount, ad quality, relevance of the ad to the keyword, and top PPC platforms, to name a few. Furthermore, you can also use PPC advertising via social media platforms.
Popular PPC Advertising Platforms
Nowadays, you have numerous options on where you can spend on PPC advertising. Popular advertising platforms are highly effective since they're easy to use and have significant traffic. When selecting a platform, you should also consider the availability of keywords, advertising budget, and where your target audience spends most of the time. Here are some of the popular PPC advertising platforms worth considering.
Google Ads
Google should be on top of your list as the largest pay-per-click platform. As one of the most popular search engines, Google offers opportunities to target keywords that will get your target audience to click. However, expect high competition on the platform, meaning spending more on your campaigns.
YouTube Ads
For businesses and individuals eager to promote their products or services, YouTube Ads is also an effective form of online advertising. The ads can take on different forms ranging from bumper ads, skippable video ads, overlay ads, sponsored cards, and non-skippable video ads.
Marketers can focus on specific audiences by considering their demographics, interests, and behaviors. You can invest in YouTube ads on a cost-per-click (CPC) or cost-per-view (CPV) basis. The marketer will be charged every time the ad is clicked on or viewed.
Facebook Ads
Nowadays, Facebook Ads is a preferred and effective platform for paid ads due to its specific targeting options. The social media platform allows targeting users based on demographics, interests, behaviors, and location.
The ads will show in the news feed of Facebook users, the Stories section on mobile, and the right-hand column of the desktop site. Some ads include a carousel, image or video, collection, and slideshow ads, to name a few.
Marketers can develop campaigns targeting specific demographics, locations, and interests. The social media platform algorithm utilizes the data to present ads to users who are more likely to show interest in advertised products or services.
Instagram Ads
If you use Instagram Ads, you can promote your brand on Instagram. Generally, the ads are showcased as sponsored posts seamlessly integrating into users' newsfeeds and appearing similar to regular posts. The different types of ads on Instagram include photo, video, IGTV, story, and carousel ads.
Microsoft
Microsoft advertising enables businesses to generate and run ads on the Microsoft Bing search engine and the Microsoft Advertising Network. Marketers can utilize the platform to develop various ads, such as product, search, video, and shopping ads. The ads target specific audiences based on interests, demographics, behaviors, and interests. You can choose from a pay-per-click or pay-per-impression basis.
Twitter
With Twitter ads, businesses can readily promote their products or services on social media. The ads are capable of reaching a wide audience and are often the suitable approach to generate leads, establish brand awareness and boost website traffic. You can purchase Twitter ads on a cost-per-engagement (CPE) or cost-per-click (CPC) basis. The marketer will be charged every time a user clicks, likes, retweets, or replies to an ad.
AdRoll
As a retargeting platform, AdRoll allows marketers to advertise to individuals who have already visited the site. For example, if a user reads an article on mattress stains. You can reengage them on other sites they're likely to check out with display ads that showcase your mattress cleaning products reviews.
An advantage of AdRoll is allowing you to display ads both on Google and social media platforms. Doing so gives you better opportunities to gain clicks or impressions, depending on your business goals.
Types Of PPC Ads
If you can get your PPC advertising campaign on the right track, it's a highly profitable move. The best starting point is to be familiar with the different types of PPC ads and when to use them. Knowing the different types will help you develop a marketing strategy that utilizes the right campaign types to achieve your business goals.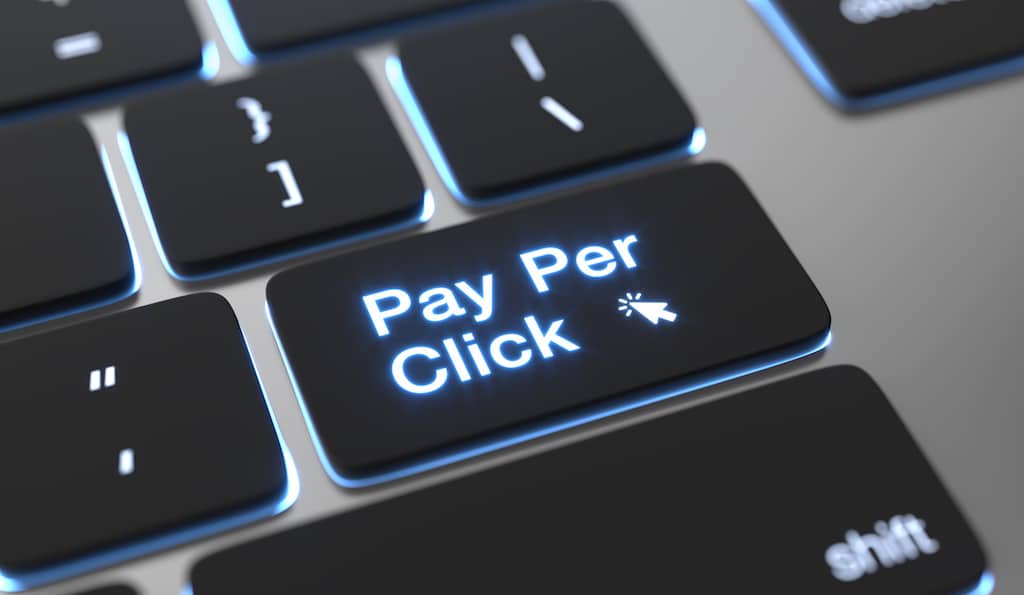 Here are the most common PPC ads to keep in mind.
Search Ads
The most popular form of PPC ad is a paid search ad. It's the preferred choice by most marketers, especially those testing PPC advertising for the first time. When utilizing this type of PPC ad, marketers select keywords they want their ads to show.
Search ads utilize an auction system to decide on the order the paid ad appears on the page and the amount to pay. Generally, the auction system evaluates how much the marketer bids on the keyword and other quality factors. You can easily find a PPC search ad for the 'Ad' message on the upper left of the ad. Most marketers utilize Google Ads to promote their brand on Google's search engine.
Display Ads
Display ads involve presenting products or services while your audience is browsing online. Display ads engage users who have shown interest in your brand. It's crucial to note that display ads tend to have a lower conversion rate than search ads. However, it stands out for affordable click prices. Most businesses utilize display ads to boost awareness of their brand. It may be the ideal choice if you have an unknown product that you want to build awareness of.
Remarketing Ads
A remarketing campaign presents ads to people who previously visited your site. Since users already show some form of interest in your brand, a remarketing campaign can be highly profitable. It's often utilized to bring customers close to converting into the sales funnel or to upsell products to your current client case.
Some audiences to target in a remarketing campaign include previous users or buyers, cart abandoners, newsletter subscribers, or those who spent some time on the site but didn't convert.
Video Ads
Video advertising is a current trend in this digital age. The majority of businesses utilize video as part of their marketing campaigns. The main advantage of paid video ads is that you can showcase your videos to an audience unaware of your business. For video ads, YouTube is the best place to start, with billions of active users around the globe.
Shopping Ads
A shopping ad usually shows up on search engines similar to search ads. The ads include an image or picture of the product sold, a title, price, and description. Generally, e-commerce businesses utilize shopping ads to present their products online.
A shopping advertising campaign can be a lucrative one. It's because your audience can see a picture of the product and its price, giving them an overview. The conversion rate is usually relatively higher than in search ads.
Tips On Setting Up A Successful PPC Advertising Campaign
PPC advertising plays a crucial role in spreading the word about your brand. It's one way to boost traffic to your site, increase visibility, generate new leads, and gain better conversions.
However, proper planning and preparation are important to execute a successful PPC advertising campaign like other marketing schemes. Here are key tips to improve performance and enjoy the best return on investment.
Define Your Business Objectives
Determining your business objectives is the initial step in creating a successful PPC advertising campaign. Remember that the objectives will serve as the foundation of your campaign. When defining your goals, comparing your campaigns to decide whether you can reach your expected level is best.
Utilize the SMART approach, which involves setting specific, measurable, attainable, and realistic objectives within a given time frame. Some common goals include boosting brand awareness, driving more traffic, generating leads, and gaining better sales.
Set Aside A Budget
In PPC advertising, you're going to pay for every click. With this approach, it can rapidly increase, so it's crucial that your budget is ready. Unless you have adequate funds ready, optimizing your advertising campaign to avoid unnecessary expenditures is crucial. Carefully consider your industry, the competition, and the keywords when setting a budget range.
Know Your Target Audience
You can further boost the overall effectiveness of your PPC advertising campaign by knowing your target audience. Doing so will make setting your business apart from the competition easier. After defining your target audience, you can develop ad content that truly resonates with their needs and helps reduce spending, especially if you have a tight budget.
Try to make the most of social media listening tools, read online reviews and testimonials, gather feedback from employees interacting with clients, and conduct surveys to know your target audience.
Identify Valuable Keywords, And Narrow Your Options With Negative Keywords
If you want your advertising campaign to succeed, you must carefully choose relevant keywords that relate to your brand and your target audience's needs. An ideal approach is to imagine being one and think of search terms they're likely to use to find solutions you have to offer.
Incorporating negative keywords into your advertising campaign is suitable for reducing unwanted spending on irrelevant clicks. Doing so will filter out unqualified leads who utilize similar yet unrelated search terms. It ensures that your ad is only presented to the audience who are more likely to purchase.
Integrate Long-Tail Keywords
Integrating long-tail keywords will benefit your search engine optimization (SEO) strategy. Adding these keywords to your PPC advertising campaign can help lessen the competition and improve the chances of converting leads into buying clients. It's because potential customers often utilize long-chain keywords when they know what they want and are ready to purchase.
Choose A Suitable Platform
Choosing a platform to run your PPC advertising campaign should be carefully considered. Consider your brand's marketing needs and the location of your target audience when choosing a suitable platform.
Facebook, as a PPC ad platform, allows businesses to upload sponsored posts on the newsfeed of the target audience and charges for every click on the ads. The Twitter ad platform is also worth considering for promoting your brand's content to audiences' newsfeeds with a charge for every clicked ad. Choose the suitable platform that works best for your business and your target audience.
Select The Right Ad Type
The various PPC advertising platforms allow different choices on the type of ad you choose to be charged clicks on. Try to think about your objectives when choosing an ad type that perfectly suits your marketing needs. Some popular ad types include video ads, search ads, display ads, and many more.
Keep Track Of Conversions
It's crucial to prioritize conversion tracking. The main purpose is to know if your ads convert into leads, sales, or subscribers. Your marketing campaign is on the right track if these metrics show an upward trend.
Conduct routine analysis to gain insights on the most effective keywords and ads. It helps cut your losses and focus more on areas that generate the best results.
Final Thoughts
PPC advertising is ideal for boosting your business in today's highly competitive environment. Developing the right campaign can put your brand on the right track, especially when it comes to search engine results pages (SERPs). Knowing everything about PPC advertising will provide valuable insights to take your brand to a new level. Whether you aim to widen your reach, boost conversion, generate leads, or gain better sales, setting your PPC advertising campaign on the right track will ensure success in no time.
Latest posts by FreelancingGig
(see all)