Image Source: Pexels
According to 3Dcart.com, about $85.1 billion online sales in 2017 was fulfilled via dropshipping.
The figure is a dead giveaway of why social media marketers should start pursuing clients in the dropshipping space — if they haven't yet.
The industry, after all, is growing at such a fast pace, and social media marketers can help dropshippers skyrocket their sales with their knowledge on how to run a successful social media marketing campaign.
If you're a social media marketer and you're looking for ways to find more clients in the dropshipping space, then you're in the right place.
In this guide, we're going to cover some strategies that you can use to close more online entrepreneurs who are running a dropshipping business.
1. Showcase your value proposition.
The key to attracting the attention of your prospective clients is to show them the value you can offer and what you can do that will bring loads of benefits for dropshipping business owners.
However, for you to turn your prospects into paying clients, you need to come up with an effective sales pitch.
To ensure that your pitch is as appealing and as "irresistible" to your prospects as possible, you'll need to consider the needs, goals, and pain points of your target market when crafting your value proposition.
For example, along with your offer, you can include the software and apps – such as social media scheduling tools and Google Analytics.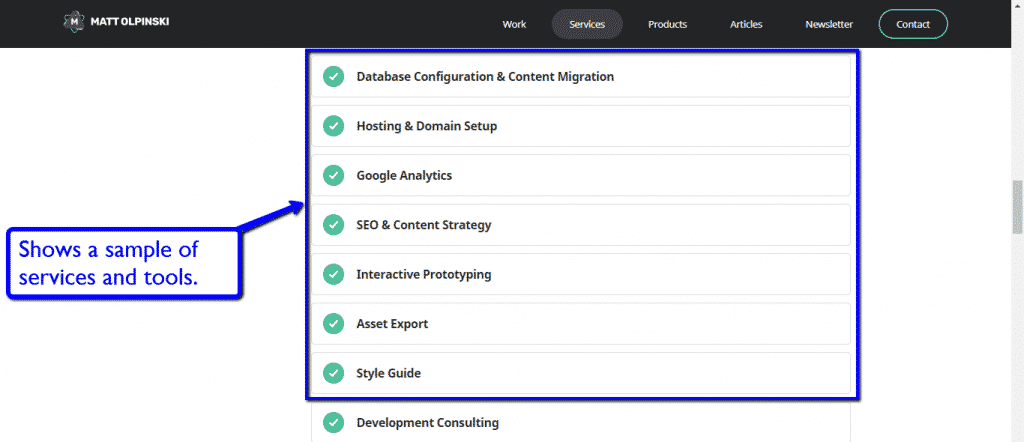 Image Source: Mattolpinski.com
You'll also need to take a strategic approach if you want to stand out from your competitors.
For instance, you can offer your prospects a 20-minute free consultation, a general audit of their social media accounts.
You can even extend a strategy session for your prospects to, let's say, address common social media marketing mistakes dropshippers can make.
Doing so gives your potential clients a preview of what you can offer them and reinforce the potential value they can get from your services.
2. Leverage your previous and current client base.
Entering the dropshipping industry and building your client base will require you to seek new leads actively.
If you've previously worked on social media marketing projects, you can use that to your advantage by getting glowing recommendations from your previous and current clients.
Here are a few tips on how to do just that.
Publish a case study. If you've worked on previous social media marketing projects and produced amazing results for your clients, then publishing a case study about it is a great way to impress your prospects.
Through case studies, you can map out the entire project process, the results, and how you achieved your client's desired outcome.
For example, you can publish a case study about integrating mobile chatbots as part of your client's social media marketing campaign and how it helped increased engagement rate and sales.
Request for testimonials. Your satisfied customers are the best sources of getting positive statements about your services.
You can give your previous clients a testimonial template or ask them specific questions about their positive experience with you.
You can even get them directly from social media posts on Facebook or Twitter and post them to your website – like what Oberlo did on their website.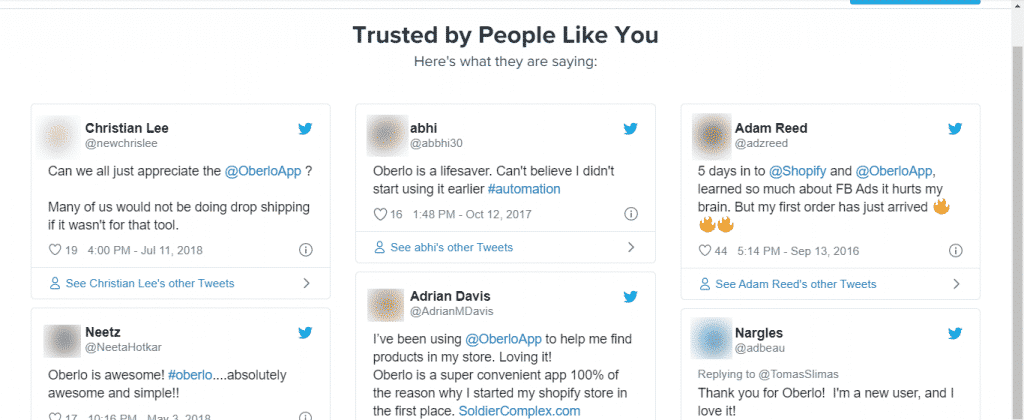 Ask for referrals. Clients who are satisfied with your services might spread the word about you through word-of-mouth, but it doesn't hurt to ask them to refer you.
You can ask your best clients to refer you to other businesses in the dropshipping or related industries and help expand your current client base.
3. Build networks within relevant social media groups.
Social media groups – like Facebook Groups – is an excellent venue for you to network with relevant people and businesses in the dropshipping industry.
As such, social media groups gives you new opportunities to acquire new leads and build relationships with your potential clients.
For instance, you can join a Facebook group for dropshipping business owners and spark discussions about social media marketing and offer advice while you establish your network.

It's a great opportunity to present your services while nurturing your relationships with your prospects at the same time.
Think of it this way.
Instead of directly pitching your offer like you would do with paid ads, joining a social media group lets you have conversations with your prospects, and then offer them value with a few social media marketing tips.
If they like what you have to offer, you can then move in and seal the deal.
Joining relevant social media groups also helps you learn more about the dropshipping industry, effective strategies, and more from people who share the same interests as you.
4. Run webinars.
To attract your potential clients and get them to trust you, you'll need to establish your expertise in social media marketing in the dropshipping industry first.
One way of doing that is by running webinars with topics that are relevant to social media marketing in the dropshipping space.
You can run a series of webinars about dropshipping.
For instance, the first event in your webinar series could be "How to do Social Media Marketing for Your Startup Dropshipping Business," and you can follow that up with "Five Reasons Why You Need to Secure Your Dropshipping Website with an SSL Certificate."
You can even use social media to your advantage by sharing the link to your webinar and the necessary details on your business account, Facebook groups, and more.

Hosting webinars will also help you qualify your leads – saving you time and effort – since those that will choose to attend your event are the ones that want and need your services.
Plus with webinars, you can capture new leads since joining your online courses and seminars would require your attendees to provide their email addresses.
By running webinars about social media marketing in the dropshipping industry, you will not only provide value to your prospects, but you can also establish yourself as an expert, which helps you build trust with your target market and close more clients.
Bottomline
There are countless ways for you to penetrate the dropshipping industry and establish yourself as a social media marketer that can help business owners build their social campaigns, and grow their business.
Although there isn't a single formula to ensure social media marketing success in the dropshipping space, considering the tips we tackled in this guide will nudge you in the right direction.
Is this information useful? Please spare a few seconds to share this with your network. Cheers!
Latest posts by FreelancingGig
(see all)