Late-paying clients are a huge pain in the neck for freelancers. They turn what would have been an exciting project, into an anxiety hotbed later.
When that happens, the payment predicament gets awkward. Despite that you need to strike a balance between preserving the client relationship and the urgency of meeting your essential living needs.
If you're consistently experiencing this — like several freelancers do — let me share five tips to get your clients to pay you on time.
1. Create a rock-solid contract.
Before you begin the job, draw up a clear contract to help your clients manage your working expectations.
Define the job's terms and conditions that you and our clients can both agree on. Include the following aspects:
Your service rates
Specific details on project scope. This includes the word count, format, exact topics and elements, etc. For web designers, you should get a project brief to help you understand and visualize the concept. Add the maximum number of revisions clients can ask for.
Project deadline
Fees. This also includes deposits, additional revisions (beyond the specified figure) and every other contract adjustment (we'll discuss this in the next section).
Payment conditions. How long should payments for your invoice be made? Many freelancers state "within 30 days," but feel free to shorten or lengthen it.
Payment modes (we'll also get to this later)
Contract changes. Indicate how much should be compensated for major project changes.
Legal actions should clients breach any contract provision.
Review the contract with your clients before officially working on the job, and ensure you're on the same boat and that they sign the document.
Doing this lets you refer back to the agreement if difficulties happen that will possibly break the terms and conditions.
2. Request upfront deposit.
Related to the fees we mentioned earlier, request your clients to deposit a specific sum of money before working.
Many freelancers do that, and it's completely reasonable, especially when partnering with new clients.
Asking for a deposit guarantees both parties to follow the agreement and gives a sense of security. It also shows your professionalism and seriousness about receiving proper payment.
Decide on how much to charge for your upfront deposit. Asking for 30% to 50% of the estimated total payment is acceptable across many industries.
Add your deposit details and payment reminders in your contracts and initial written correspondence with your clients, and refrain from commencing work before getting your deposit.
3. Send your invoice promptly.
Invoices remind clients that your payment is due, so send these documents according to your contract conditions. The sooner you deliver them, the faster your clients can pay you.
To organize, hasten, and simplify your invoicing, leverage user-friendly invoicing tools such as vcita.
vcita is a comprehensive tool to process payments, send invoices, and complete several other tasks related to client and customer transactions and working relationships.
For your invoicing needs, vcita has a clean dashboard where you can view and quickly find all your billing and invoices in one place.
It also has customizable electronic invoice templates where you can painlessly insert your terms and conditions, taxes, payment time windows and due dates, etc.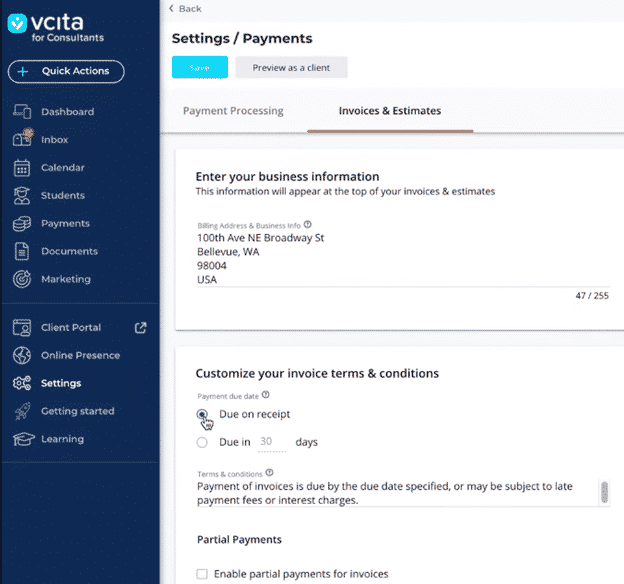 If clients wish for a price quote of your services, vcita lets you design professional-looking estimates within minutes.
Once your contact is a go and you're ready to collect payments, you can transform the digital quote into an invoice in a single click.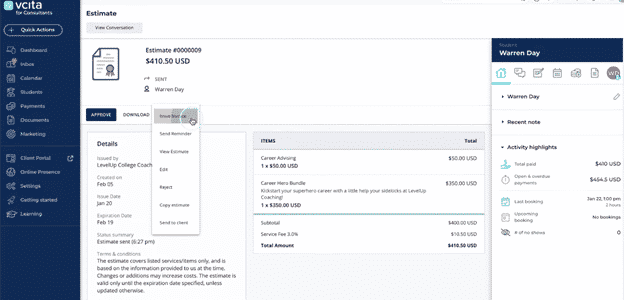 vcita even lets you deliver your invoices via SMS if you want faster turnarounds than email.
Finally, the tool automates sending reminders to your clients, eliminating uncomfortable follow-up calls.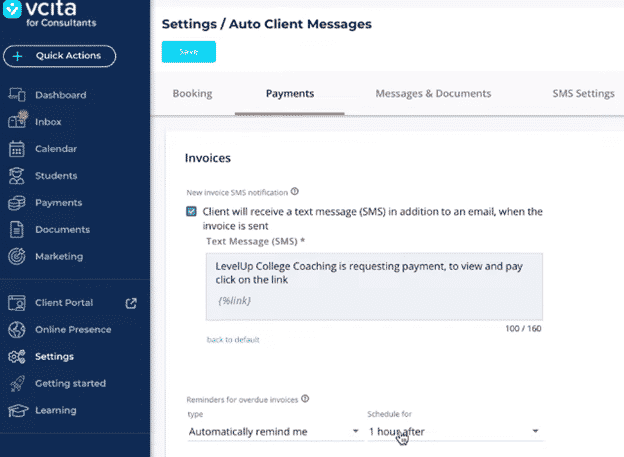 Next, follow these other tips on how to invoice as a freelancer:
Decide on your invoicing frequency.
Consider how often to invoice your freelancing work for clients. This can depend on the kind of working style you both agreed on.
For instance, if it's project-based, send off your invoice once you complete and submit your deliverables.
If it's a regular job paid hourly, decide on the best frequency — whether every hour, daily, etc.
In both cases though, weekly or bi-weekly invoicing is a practically safe choice since this leads to more regularly incoming payments.
However, you can also opt for monthly invoicing, but ensure taking this into account when handling your budget and cash flow.
Remember to send your invoice promptly to give your clients ample time to prepare the payment delivery — leading us to this next point.
Specify your time window for the payment.
Earlier, we stated that you should indicate in your contract your desired time window for clients to send their payments.
We also saw vcita's straightforward functionality for indicating the due dates and enabling automated reminders. Leverage them to streamline your invoicing tasks.
4. Simplify your payment methods.
To further motivate your clients to pay ASAP, make it easy for them to pay you.
Vague and overly complex workflows are burdensome, discouraging them to process your payment immediately.
When creating your invoice, make sure your payment details and instructions are clear and easy to understand.
At the onset, diversify and mention your preferred payment modes in the contract to orient your clients about it and give them several alternatives.
Again, you can use vcita, which has a simple, visually appealing client portal and allows customers to pay offline, via email and SMS, on your website and Facebook page, etc.
It also enables your clients to pay quickly with a single click (through customizable call-to-action buttons), accepts credit card payments, and can print out receipts.
Other payment method choices include direct online bank transfers and popular peer-to-peer platforms linked with digital wallets.
5. Address any occurring contract changes.
Changes sometimes happen along the way in any freelancing job. You or your clients can suddenly need to prioritize something else, set off on a different project direction, and widen or curtail the contract scope.
Address these modifications in your contract and what you should do when that happens (as previously discussed). The bigger the change, the higher you should charge or compensate your clients.
Doing this also helps both parties to solidify the contract from the beginning, enter into the agreement more mindfully, and stick to it as much as possible until project accomplishment.
Ending Thoughts
Getting paid for too long can make you wonder if freelancing is better than full-time jobs.
However, it can still be highly fulfilling — even financially speaking — as long as you master negotiating payment agreements (among others). It all takes practice, patience, and knowing your professional worth.
With these tips and your experience over time, you can navigate this stage more smoothly and increase your satisfaction in your freelancing job.
Latest posts by FreelancingGig
(see all)