"A business is just as good as it's people." There is so much truth in this business quote.
After all, without a reliable team to run your business, you either end up with truckloads of firefighting or you drastically limit your capacity to produce because you don't have the people who can execute effectively.
That's why employee management is crucial.
Properly executed, employee management cultivates employee loyalty and morale. This will cause your team to work better and faster, which ultimately helps your bottomline.
To help improve your employee management, below are four tips.
1. Simplify your staff attendance and productivity tracking.
Staff attendance is an essential component of employee management that many startups struggle to handle efficiently. This is often a tedious, detail-oriented job, especially when done manually.
Streamline your tracking duties for staff attendance and productivity (among other things) by using time clock software for your team. One such platform you can use is Deputy.
Attendance and shifts
Deputy lets your staff record their exact working hours via mobile gadgets and their computer, and the tool automatically creates records.
Your employees can verify their digital timesheets with GPS location stamps on mobile or their tablets' facial verification systems.
On your end, you can quickly view who's running late, on break, or on duty in real-time, ensuring they're covering the correct hours.
With a few taps on Deputy, you can instantly fill in empty shifts and approve timesheets in bulk or individually. On the other hand, exporting records to your payroll software takes only a single tap.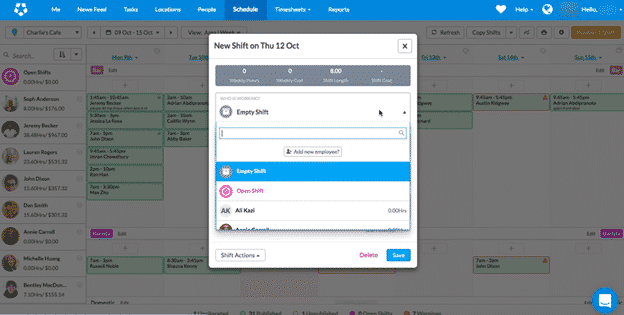 Health checks
Deputy also offers pre-shift health checks that are essential to operating in today's COVID-19 pandemic. The tool automatically checks staff wellness before working, prevents clocking in if alarming symptoms emerge, and notifies their supervisors.
Deputy is also the first contactless time clock app (available through Time Clock on Android tablet and Deputy Kiosk on iPad). Employees can begin and end shifts fast with voice commands and facial recognition. This minimizes queues and promotes workplace sanitation.
Productivity
Taking in-between breaks maximizes your workers' efficiency and productivity and keeps them from stress and burnout. However, monitoring this daily is time-consuming for you or your finance department.
Deputy takes care of it by monitoring your staff's required break time and automatically alerts you or their supervisors when they miss their breaks altogether.
Payroll and legal compliance
Staff attendance and productivity are directly linked to their wages, but manually counting and calculating their pay, or even exporting time records to Excel for computation, is extremely burdensome.
Deputy automates wage calculations vis-a-vis their instantly recorded working hours (plus overtime) and according to applicable regulations and company rules. Set up the designated rates for every employee and the tool crunches the numbers for you.
Deputy does this through its vast app integrations linking the tool with POS and payroll systems (and more), such as QuickBooks, Xero, Gusto, Lightspeed, Square, etc.
Deputy even helps you manage and ensure your wage expenses are still within your budget. It lets you compare scheduled working periods versus timesheet hours and salary costs against your sales and revenues.
If you need your staff to certify their irregular attendance (e.g., leaving early, working on unscheduled days, etc.) for legal compliance, Deputy automatically requests employees to do so.
2. Openly communicate.
Working for a startup, typically the size of a small business or smaller, means engaging with fewer people and even gathering in closer offices than giant corporations.
This also implies that communication lines are shorter and simpler, so you have better opportunities to foster open, honest interactions — especially for work-related matters. Conversations like these contribute positively to your startup's smooth operations and successful outcomes.
Before telling your staff to cultivate active communication, set a follow-worthy example. Be transparent about your startup's clients, business dealings, and even issues concerning the company's operations.
You can do this through a daily morning convergence with your employees, where everyone disseminates upcoming critical engagements for the day and uncovers issues to address.
A routine like this effectively nurtures healthy workplace communication, motivates everyone to adopt it, and makes your employees feel valued and listened to as team members.
3. Set expectations for your staff's performance.
In line with the previous approach, you should also set and openly communicate your expectations as a startup manager about staff performance, including how and when you will evaluate their work.
Doing this eliminates any ambiguity about what your employees should complete, how you want them to fulfill their duties, etc., or outbursts from you about what they're doing wrong.
Set predetermined goals for every position and share this during onboarding and other regular meetings when objectives seasonally change. Scheduling habitual catch-ups is also helpful — whether weekly, fortnightly, or monthly.
Regular performance evaluation is another excellent way to inform the employee how they're doing at work.
This is usually a dreaded activity, so lighten it up a bit and make your personnel comfortable enough to process the evaluation results and insights and explain their thoughts or reasons accordingly. Affirm your employee and together find proper resolutions to any arising issue.
You can conduct performance reviews for your startup staff once every three months, so you can promptly attend to problems and updates.
Additionally, use this opportunity to check on your staff's performance progress monthly or quarterly, readjust the targets as needed, and offer the proper support to improve their work.
4. Carry out team-building and continuous training.
Getting to know your startup team outside of your office and through non-working activities lets you build a solid bond beneficial to productive internal collaborations.
Doing this also helps develop thriving professional relationships that contribute to enjoyable working environments and systems. Remember, happy employees make productive workers.
That said, implement regular team-building activities (e.g., once or twice a year) suited to your team's culture, structure, and personality. Choose places promoting healthy relaxation, recreation, and wellness.
Another employee management strategy is training them continuously. Upgrading their skills lets you save money in the long run since you don't need to hire more people for capabilities that your staff can acquire.
Moreover, combine physical facilities and technology to engage your employees effectively and diversify and simplify the activities in your team-building and training sessions.
Get set to improve your startup's employee management now.
Your employees are at the heart of your business — especially for a startup. Proper supervision empowers them to give their best at work and contribute to your eventual success.
Practice these and other tips to foster an inclusive workplace culture, a respectable boss image, and a commendable startup. In time, you'll reap the rewards and see these employee management methods were worth your every effort.
Featured Image: Unsplash
Latest posts by FreelancingGig
(see all)