Want to be your boss? Want to concentrate on your passion project and have no problems with time arrangement? Then it's all about freelance. You can be a full or part-time worker, but you're still a freelancer who doesn't depend on anyone.
You can enjoy working from home or have a flexible schedule that is comfortable for you. It can be an IT company or an online writing agency like MasterPapers, where you can perform diverse students' tasks and have a stable workload. In both cases, you stay in touch with the whole business world. Even more, it's a good career start for students who want to earn money for their skills.
Who's a Freelancer – a Self-Made Expert or an Employee by Contract?
A freelance worker means a contractor rather than an employee. They're mostly self-employed and work on various projects by signing an official working contract. Sure, there are numerous opportunities for professional development and upgrading both hard and soft skills.
Speaking about the fields that are popular for freelancing, it's possible to find a worthy project on any specialty. It can start from finance and administration to client service and training. Though nowadays, freelance positions are spread mostly in IT, SMM, copywriting, web design, and online teaching.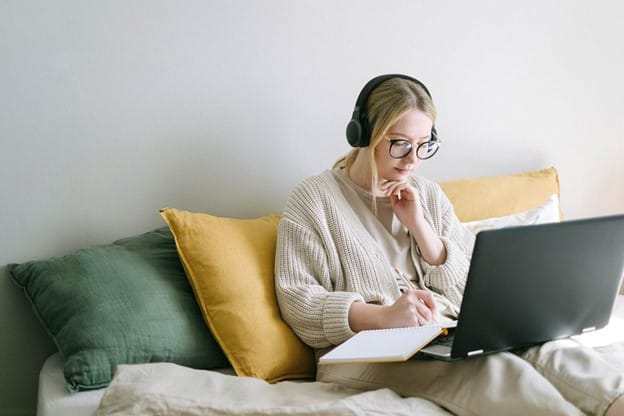 Pros and Cons of Being a Freelancer
Being a freelancer has lots of benefits that excel greatly compared to common work:
Chance to pick up fitting projects you can work on.
Ability to arrange your flexible timetable and workload.
Focus on areas that interest you most and upgrading skills there.
Opportunity to work from any place you feel comfortable in.
Setting your payment rate be staying compatible & high-demanded.
However, to be an excellent and top-level expert in your specialization field isn't enough for gaining success. If you're interested in becoming a well-qualified and achievement-oriented freelancer, it's highly preferable to stay self-motivated, organized, and possess the desire for stable development.
The other side of the coin is that each freelancer faces particular difficulties arranging personal working processes effectively. Sure, it's impossible to find a perfect option. You'll face various pitfalls along the whole career path like these are:
Additional responsibilities like finding proper software to fulfill your duties.
Unbalanced workload: absence of constant work duties and projects.
Constant search of clients and projects that you can work on.
Frequent change of working contacts and process involvement.
Control of your finances: good money management is a must.
For example, if you want to become a freelancer in the educational area, working with students' assignments, or be a member of a writing company, you should possess the following qualities to perform any task easily:
Self-discipline to control your personal working efficiency.
Perseverance and ability not to distract while writing.
Organization of the working process to gain top proficiency.
Being active and communicating easily to meet clients' expectations.
Goal orientation and motivation, showing personal interest in the project.
Taking into account the mentioned information, it becomes clearer what qualities and background a potential freelancer should have to sign a worthy contract and work on a project that interests them.
What's About Being a Freelancer While Studying? Get Maximum From Your Talents!
If you're a student who's just pursuing a degree and has superb skills in copywriting, web designing, or programming, take a chance to strengthen your talents and find a fitting freelance position. You can arrange your time smoothly by managing to fulfill college assignments and continue working on a project. Being a freelancer while studying is a perfect option for constant and stable development in your specialization or earning money by being occupied with your hobby.
Nevertheless, it's up to you to organize your time considering tasks, deadlines, and general load. Also, you should be constantly connected with a project manager you work with to be informed about a possible change of order instructions, needed revision, or the latest updates. But, if you can't cope with an order on time, inform your colleagues about the possible delay.
In such cases, contact paper writing service MasterPapers where a writer will help you complete your college task promptly. No plagiarism, mistakes, or content discrepancies will be detected because it'll mimic your writing manner and follow the defined instructions. You may also consider the article, "The Best Essay Writing Services | Top Companies Offering Assignment Help."
So, starting as a freelancer doesn't require much if you already worked on your specialty and have some grasp of the working process arrangement. All you need is a desire for self-development, to be able to organize your tasks without someone's control and be competitive to get more extensive and engaging projects.
BIO:
Patrick Green is a die-hard workaholic. Last semester, he has done more than fifty essays, a dozen term papers, and two Master's level dissertations. Unfortunately, Patrick doesn't know how to write bad essays. So it's either a good essay, great, or excellent. With Mr. Green working on your order, it's safe to say that there's nothing to worry about because work will be done well in time!
Latest posts by FreelancingGig
(see all)