The competition within all niches and industries is increasing, and the purpose of each business to get noticed is becoming more difficult.
To do so, both small and big businesses attempt to take advantage of new marketing initiatives to increase their brand recognition.
The most common marketing materials companies use to spread their message are stickers, labels, and cards.
For years, custom stickers have been a staple of the marketing industry due to their effectiveness.
The best thing about them is that, aside from the ability to build or advertise a brand, they are easy to make, print, and distribute. This is why they're considered to be one of the best and most convenient solutions for marketing promotions.
Keep reading if you're interested in learning more. In this article, you'll discover how to boost your brand with custom stickers.
Let's get right to it.
How to use custom stickers to boost your brand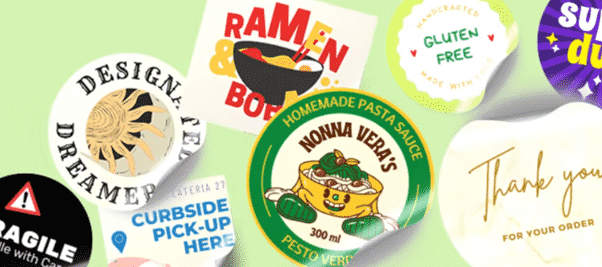 From Helloprint's website
There are many ways to boost your brand with custom stickers. Here are some of the most relevant ones.
Whenever you deliver your product or partner with another company, you can decide to send custom stickers as a gift. This gesture doesn't just increase customer satisfaction, but it can also help you increase exposure by having your clients take pictures of the stickers and post to social media or decorate their personal belongings with them.
Distribute custom stickers at special events
Distributing custom stickers at special events will also help your brand gain visibility, communicate your brand identity, and encourage people to discover it.
If your business sells products, you can also consider using custom stickers on packaging. You can use them as decorative items or as closures. For instance, by placing a QR code sticker or a custom sticker with your company information outside the box, your customers will instantly recognize the package as yours.
Custom stickers can also be added to your product collections if your business sells products. In addition to increasing your profits, you'll also increase your brand exposure, since clients are likely to use them on their own personal items.
Benefits of using custom stickers
You can benefit your business and brand reputation by using custom stickers. Below are some of the most useful ones.
Compared to other advertising materials and strategies, custom stickers are extremely inexpensive. It is for this reason they're favored by startups and acclaimed organizations alike.
If you distribute stickers at events or deliver them to clients, the receivers would most likely use them on their personal items, or take pictures and post them to social media sites. Therefore, your brand will gain more visibility and free advertising.
In addition to their affordability and advertising value, custom stickers have many other advantages. If you decide to put custom stickers on your product packaging, they will also enhance its overall appearance, and customers will appreciate it.
Custom stickers have the advantage of being flexible items. This means that they would be suitable for any use that you decide upon. It doesn't matter if you want to use them as part of your product packaging or if you intend to sell them, or whether you intend to use them on your items or shop windows, custom stickers will perfectly suit your needs.
Well-designed labels can enhance your product's professional appearance. This will reflect the amount of effort you put into the details of the packaging and/or design, which makes your company look trustworthy and competent.
Where to design custom stickers: 3 best sticker makers
There are many programs on the web that will allow you to create stickers with ease, and most of them are free.
The following is a list of the best custom sticker makers.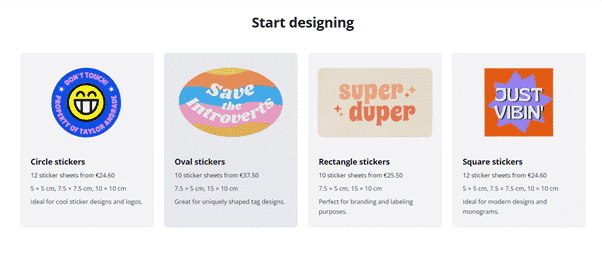 From Canva's website
Canva is the most popular and best graphic design platform that lets you create any kind of graphic, from presentations to stickers.
Its intuitive drag-and-drop system and extensive library of pre-made elements and templates will make the creation and customization process fast and easy, even for those with no prior experience.
Stickers will be easy to create, since the app provides some inspirational designs, pre-designed shapes, and lets you upload your own pictures and files for a more customized graphic design. Additionally, it offers an online drawing feature that enables you to create your own custom stickers with ease.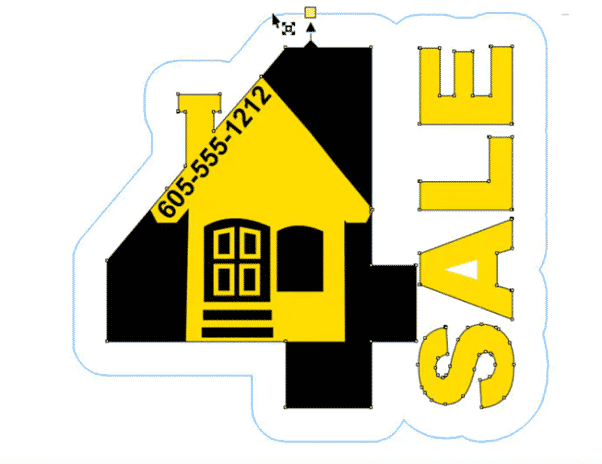 From CorelDRAW's website
A vector graphics editor like CorelDRAW can be used for creating any type of design and graphics, including stickers.
The program requires some designing skills, but once you learn the process, creating high-quality, scalable graphics will be super simple and quick.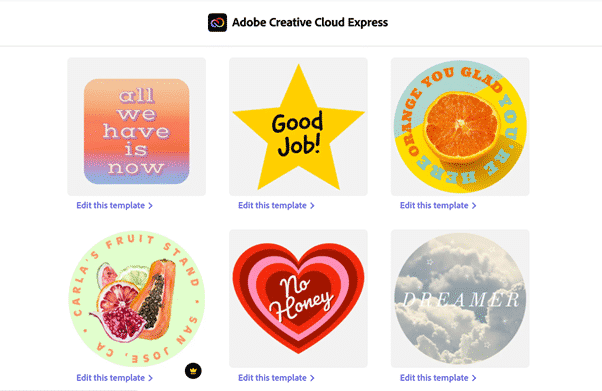 From Adobe Creative Cloud Express's website
Similarly, Adobe Creative Cloud Express provides you with a wide variety of sticker templates, and you can pick, edit, and personalize one that appeals the most to your brand.
As soon as you've finished creating and editing the sticker, you can save it and download it, and either send it digitally or use an online print service company to print and deliver it to you.
Tips to create a successful custom sticker
Having learned about the best programs and tools to design your stickers, in this section we will provide you with five tips that will allow you to create a successful custom sticker.
The first rule for making a sticker is to keep it as simple as possible. By incorporating a lot of elements, text, colors, and more, your sticker will not be able to generate the positive and desired effect you are hoping for, as it will look confusing and unprofessional to the recipients/viewers.
It is possible to make a sticker in multiple shapes (circle, rectangle, square, oval, etc.) and customize it to give it an original feel and make it capable of attracting attention and interest.
If you are creating custom stickers with the goal of boosting your brand, make sure that they match your brand identity with color, style, and more. By doing this, viewers and recipients will recognize the sticker immediately and relate it to your business.
Whenever you include text on a sticker, make sure that it is readable for everyone. It is therefore prudent to avoid too small text, unreadable fonts, and italics with too little space between letters.
While creating stickers, ensuring it has a high resolution and quality is one of the most important things to consider. In addition to making it look professional, your clients and recipients will appreciate your efforts. Using a professional program is a better choice if you want to create high-quality graphics.
Where to print custom stickers
Once you have created the stickers, you need to print them in the appropriate size and format. Therefore, there are some companies that specialize in printing custom stickers. Here is a list of the best ones.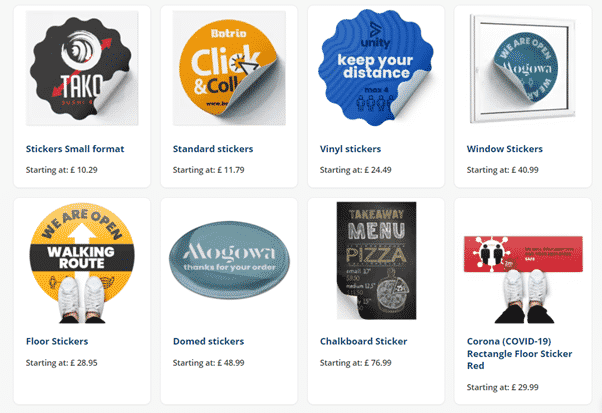 From Helloprint's website
Helloprint is Europe's fastest growing online print platform with activities in over 10 European countries. The platform provides a wide range of sticker options with different dimensions and formats, including small, large, and rolls of labels.
Also, you can choose from different sticker types, such as glossy stickers, transparent stickers, paper stickers, and writable stickers.
In this way, you'll be able to choose from numerous options and achieve any kind of business objective.
Besides printing stickers, Helloprint also lets you design them. Click here to create a custom sticker to promote your brand.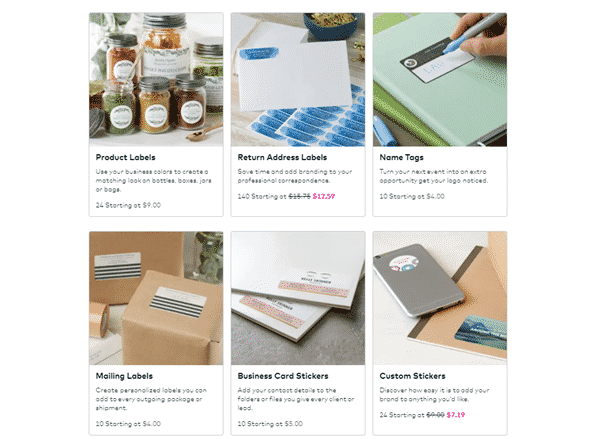 From Vistaprint's website
Vistaprint is another great online printing platform that offers many sticker options, such as sheet stickers, roll labels, product labels, business card stickers, and so on.
Vistaprint then allows you to choose the shape (rectangle, circle, oval, etc.), the orientation (horizontal, vertical), the size, the finish (matte or glossy), and the material (paper, plastic, etc.).
Any purpose you would like to reach with stickers, Vistaprint provides fast and professional shipping, which does not require large orders, but can also be as small as 24 stickers per order.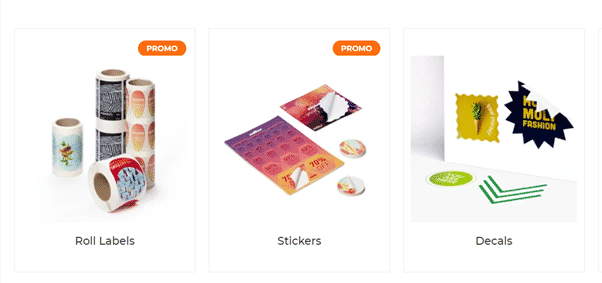 From PixartPrinting's website
PixartPrinting specializes in online printing, offering a range of products and services for any size business or project.
It also offers die-cut stickers, kiss-cut stickers, sticker sheets, domed stickers, label and sticker sample packs, and more.
Each product comes with a wide array of customization options, including size (exact height and width), shape, finish, and special finishes.
Wrapping up
Your business can benefit from custom stickers by gaining exposure and increasing engagement.
With the creation and distribution of the right types of custom stickers, you will see results in no time.
By implementing the tips and creative strategies outlined in this article, you are sure to succeed in your endeavor.
I appreciate you taking the time to read this article. Hope it was worthwhile and helpful to you.
If you want to read more about how to boost your brand, we recommend you read this blog post on 10 ways to fuel brand love from your customers.
| | |
| --- | --- |
| | Author Flavia Silipo is a skilled SEO copywriter and digital marketing specialist with over two years of experience. You can find her on LinkedIn. |
Latest posts by FreelancingGig
(see all)