Making your customers love your brand is not an easy feat. With just a few missteps, even loyal clients could quickly turn their backs on your company. When they do, you may see a sharp dip in your web traffic or, worse, witness a decline in your bottom-line earnings. You see, loyal customers do not only bring sales figures up, but they can also significantly boost awareness about your brand and convert prospective buyers to become repeat customers.
It's never too late to start encouraging brand loyalty. Here are the top ten ways you can fuel brand love from your customers:
Prioritize Brand Personality
Before enforcing any marketing strategies, you must first determine your brand's voice or identity. A brand's voice is a unique combination of words and images that communicates your values, beliefs, and personality. Your brand personality could imply the kind of service customers can expect. It would help if you made your brand identity unique, relatable, and memorable for it to stick to the consciousness of the public, particularly your target market.
After you've identified your brand voice, the next step is building your online presence using your website, blog, social media, and other platforms. Suppose you're a fashion retailer in Los Angeles. You may need to find a quality Los Angeles web design company to create and build your website, logo, and overall online presence. Choose one that knows how to feature your brand in the best light.
Decide on how your business would come across online. Will you be informational and formal? Or will you go for the friendly and casual voice? This will influence how your website and online presence will be like.
Take The Omnichannel Approach
Today, even if you're a brick-and-mortar store, you need an omnichannel marketing and customer service approach if you want to retain customers. This means you have multiple points of contact with your customers. Omnichannel is all about customer engagement. It's no longer necessary to have separate customer journeys for different contact channels.
The ideal omnichannel approach is one where every interaction with a brand is as seamless and efficient as possible. To achieve this, you need to store all customer data centrally for it to be immediately available to all channels.
The leading types of marketing channels and areas of digital customer service you should focus on are:
Website
SMS
Email
Social Media
Chatbots
Video Content
Search Engine
Always keep your brand personality in mind when crafting messages and content for each channel – they need to be consistent.
Impart A Compelling Brand Story
While providing high-quality products and stellar service is essential, you need more than that to drive customers to love your brand. The emotional link that your brand can create is vital for keeping old customers and winning new ones. You can achieve this strong customer relationship and brand awareness through excellent storytelling.
Here are tips for creating an amazing brand story:
Ensure your core values and mission are well-defined
Emphasize customer benefits
Stay authentic to your brand and on what you do best
Find the right tone that will resonate most with consumers
Use honest and personal stories to spark a genuine emotional reaction
Encourage Customer Feedback
One of the most effective ways to fuel customer brand love is to encourage customer feedback. Customers love to feel appreciated for supporting your business. They are happy to provide feedback when they feel like they are getting the best deal possible. This also shows that you care about what they think and have their best interests at heart.
Customer feedback is vital because it provides an inside look into how customers use your product or service and what they think about your brand.
The methods you can use to get feedback from customers are:
Email and Web Forms
Point of Sale Terminals
Surveys
Social Media
Focus Groups
Chatbots
Communities and Groups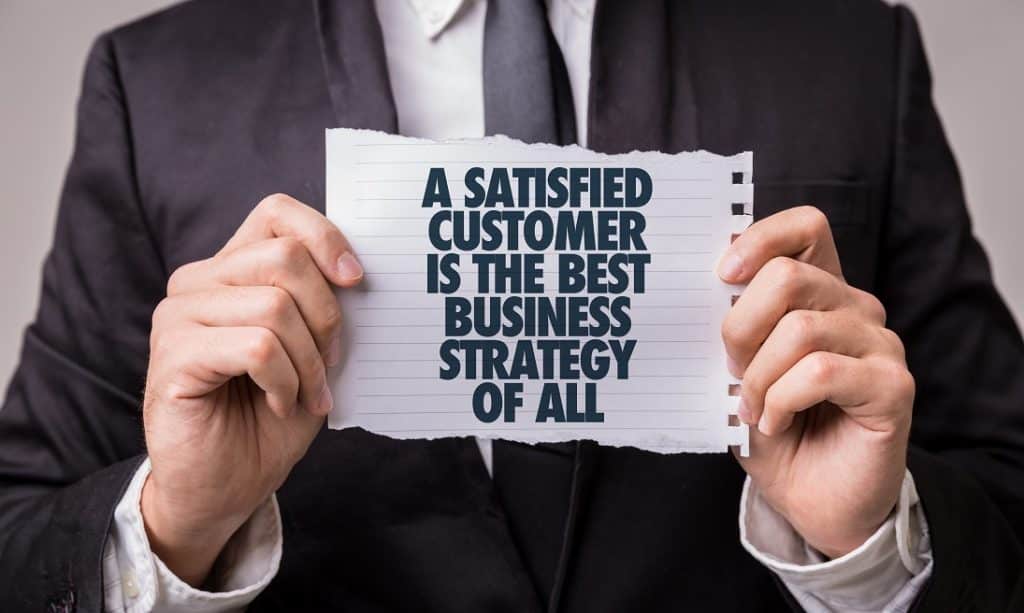 Foster A Sense Of Brand Community
It's a good idea to include a community element in your marketing campaign. Using a platform where your customers can communicate with each other and interact with your brand is an excellent way for this to happen.
For example, if you sell products online, you can create a website forum where your customers can share their thoughts about the product. If you have an in-store retail location, you could create a community on social media where your customers can post pictures of themselves using your products.
To cultivate a robust community around your brand, you can follow these steps:
Provide fresh content regularly
Let company top brass communicate directly with your brand's audience
Build trust by providing meaningful information through webinars, articles, and courses.
Feature customer stories
Keep all your communications real
Produce newsletters
Keep Your Employees Happy
The best ambassadors of the company's brand, aside from loyal customers, are your employees. If you keep them happy and motivated, their positive energy will translate to positive engagement with your customers. Happy employees will be attentive and responsive to your clients' needs. Making your staff feel empowered and essential will push them to work harder to keep your business successful.
Although most employees are attracted to high salaries, they would most likely not stay to work for your company if the environment is toxic and doesn't provide growth opportunities. No matter what industry you're in, happy employees are essential to a business's long-lasting success.
Remember that employees are the most critical asset of any business. They are the ones who work every day, including engaging with your customers.
Here are some tips to keep employees happy, engaged, and motivated:
Ensure that they understand the brand's values and mission.
Make them feel appreciated by offering small rewards and bonuses.
Recognize their contribution through awards and shoutouts.
Get to know them better and genuinely provide care and support for their needs.
Enable them to make a difference by allowing them to continue with their education.
Offer flexible hours so they can attain a healthy work-life balance.
Sponsor activities to strengthen their sense of teamwork and community.
Maintain Your Transparency
Honesty is a characteristic that people, particularly millennials, look for in a company. If you aspire for customers to love your brand and stay loyal to your company, you must be ethical, forthcoming, and trustworthy. Sometimes, transparency is why some individuals prefer small to medium-sized enterprises over multinationals that are perceived to be less open and insincere.
It's important to stress that transparency does not mean providing confidential information or letting everyone scrutinize your books. Being honest means sharing the right tools and work practices or, from time to time, accepting responsibility for your mistakes and showing the steps you're taking to learn from those mistakes and not do them again.
Treat Customers As Valued Partners
No matter what industry you're in, you'd want to foster two-way communication with customers. It's a sure way to make clients feel like valued partners. You achieve this by developing open, regular, honest, and candid discussions with your customers. You also make changes where they're needed and give credit where it's due. These steps prove you're a real partner who treasures your customers' opinions and ideas and is willing to perform anything to make things better.
So, for example, if you're planning to make changes to your product or are raising your prices, it would mean a lot to your loyal patrons that you provide advance notice and can justify such moves.
Strategies that will make your customers feel like valued partners include:
Showing genuine appreciation by thanking your customers.
Continue reaching out even post-sale.
Actively listen so you can adequately respond at the soonest possible time.
Engage on a personal level by sending birthday and holiday greetings or celebrating their milestones.
Make it about them and not always about you.
Develop A Scalable Customer Support Structure
Many startups or small businesses owners usually want to save money, so they try to do most things by themselves, including handling customer support. This practice is understandable at first if you're company is strapped for cash.
However, as your business grows, it's no longer advisable to take on brand loyalty or customer retention measures on your own. It would be challenging for you to answer the increasing number of calls and emails.
Although it's ideal that you eventually find a web developer or customer service representative to oversee customer support, there are numerous ways you can scale customer-related tasks with the help of technology. The following are the tools you could use to boost customer brand love:
Customer Experience Management
Customer experience management (CEM) can help you gather experiential information and feedback from clients. A CEM can provide deep insights that could help businesses optimize and improve customer experience. The typical features of a CEM platform include A/B testing, customer support, survey forms, and customization settings. You'll also be able to manage online communities, live and automated live chats, or even self-help tools through the help of CEM.
Customer Relationship Management
A customer relationship management (CRM) tool assists businesses in tracking and managing client engagement with the company from a central hub. One of the pertinent benefits of CRM is maintaining customer brand love, so it's a valuable asset in a company's customer retention toolkit. With the help of this platform, you can optimize both your company's internal communication and that of your potential and current clients. Essential features that you might expect in a CRM platform are sales data processing, marketing automation, and lead management.
Customer Loyalty Program Software
A customer loyalty program software is a tool that companies use to implement their rewards or loyalty schemes. As a reward for repeat purchases and loyalty to the brand, companies offer rebates, discounts, freebies, points, or gifts to their loyal patrons or exclusive members. Many companies also use such rewards to encourage customer engagement via online surveys, submitting feedback, bringing referrals, and increasing social media activities.
To ensure that the customer experience is more fun and interactive, some companies use gamification software as part of their loyalty rewards and even employee incentives. With this application, it's easier for companies to display statuses, leaderboards, or badges on their website or online community. For instance, having that top fan badge on their profile can make customers and employees feel they're an important part of the brand.
Incorporate Customer Self-Service (CSS)
If there's one thing that everyone loathes, it's long queues or waiting for customer support over the phone. People are impatient, and some would instead buy from an unknown brand or seek untested service rather than get in line. Moreover, long waiting times will negatively affect customer reviews, which may affect your bottom-line numbers eventually.
One way to improve brand experience and boost loyalty is by making self-service options available. This manner of support enables your company to resolve mundane and routine queries about your brand. Besides, many customers don't want to speak with customer support if they know a self-service option can resolve their problems or questions quickly and efficiently.
Here are the reasons why you should consider offering CSS:
It allows you to deliver 24/7 customer service conveniently and efficiently.
Self-service options could increase website traffic, which could translate to more sales down the line.
Since you don't have to hire more people to oversee customer support, you can lower costs on new staff acquisition, training, office rental, and other overhead expenses.
Enabling self-service will also help boost the customer service team's productivity because they can focus on providing solutions to more challenging and unique customer issues.
To Recap
Knowing how to fuel brand love from your customers is crucial for boosting revenues and enhancing retention. Below is a quick rundown of the ten effective ways you can achieve just that:
Prioritize Brand Personality
Take the Omnichannel Approach
Impart A Compelling Brand Story
Encourage Customer Feedback
Foster A Sense Of Brand Community
Keep Your Employees Happy
Maintain Your Transparency
Treat Customers As Valued Partners
Develop A Scalable Customer Support Structure
Incorporate Customer Self Service (CSS)
Good luck on your journey to brand success!
Latest posts by FreelancingGig
(see all)