COVID-19 has affected more than just our physical health – it's also changed the way we work. Social distancing has made remote work a necessity for many. While some are returning to the office, others are opting for a hybrid work model that requires secure network access. That's where VPNs come in. They've become a mainstream tool for those working from home, with 31% of global Internet users connecting to them daily. It's crucial to understand what a VPN for freelancers is and how it works in today's remote work era.
Why Freelancers Need a VPN?
#1 Protect your data on public WiFi
Working remotely offers flexibility and convenience, but it's important to prioritize security. Utilizing a secure VPN ensures your private information stays protected, whether you're working from a local coffee shop or just need a change of scenery from your home office. Don't sacrifice data protection for convenience – work smarter with secure remote access.
Hackers often prey on unprotected public networks to access sensitive information that they can use for nefarious purposes. Even worse, if you try to access company servers from one of these networks, you could unwittingly invite them into your corporate network. Don't be a victim of hacks, evil twin attacks, or exploits. Stay safe by using a secure VPN remote work setup.
#2 Secure your online activity
Protect your online presence with two vital tools: a virtual private network (VPN) and a firewall. By encrypting your internet traffic and concealing your IP address, a VPN makes it nearly impossible for anyone to snoop on your online activity. A firewall adds an extra layer of defense by blocking malicious connections and shielding your data from hackers, viruses, and malware. As a freelancer, relying on a VPN and firewall will help you evade cyber threats, censorship, and surveillance when using apps and online tools. Keep your data safe and secure with these essential tools.
#3 To optimize connection speed
Not only freelancer privacy and security are important for efficient work, but the issue of speed also becomes acute. Think, does a VPN slow down internet speed or maybe even speed it up? In fact, a good VPN has little to no effect on your internet speed and latency. However, there is an exception if your ISP slows you down when you connect to certain services. These can be movie sites, torrents, game servers, etc. In this case, VeePN, as one of the best services on the market today, can hide your activities, preventing you from slowing down. So VPN for remote freelancing can even speed up the internet. At least it doesn't slow down if we're talking about a good VPN service.
#4 Safe remote access to your work PC
Working remotely and need a secure connection to your work computer? VPNs can help. VNC, SSH, and RDP are just a few remote access apps that can establish this connection. Just make sure your onsite machine is in the office. And if there's no office IT policy against it, use a VPN to access your PC from outside the office. Protect company data while working remotely with this simple precaution.
#5 Cheaper flights
As a freelancer, the potential to work from anywhere is a major benefit. However, the cost of international flights can still be a burden. By using a VPN, you can avoid the tracking cookies on airline websites, leading to more affordable ticket options. Simply activate your Chrome VPN extension, open a new browsing session, and switch the server location to your desired destination. Enjoy the savings that come your way!
#6 Work anywhere
Work from anywhere with ease, but your client's company might not. Planning to head to Barcelona and mix a little work with pleasure? Beware, if your employer uses geo-protected CRM or CMS software, you might not be able to access it while abroad. Don't find yourself stranded and unable to work. Use a VPN to adjust your browsing location to match that of your client, so you can bypass any roadblocks and keep on working.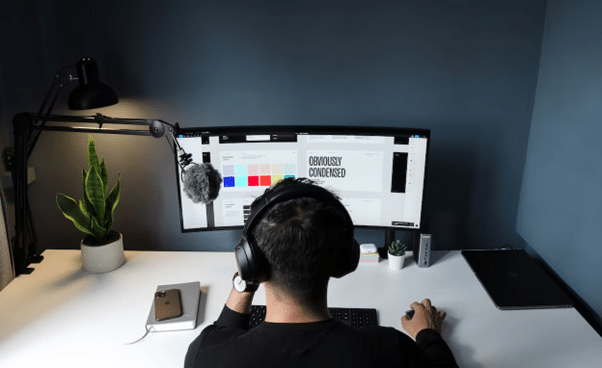 #7 Increase productivity
Take your project forward even when away from your office desktop. Work from unique places beyond your standard workspace? Keep cyber threats away and boost productivity by registering for a premium virtual private network (VPN) service. With remote work security, you can confidently work from anywhere without compromising company information. Enhance your work game with a reliable VPN, offering more than just media, streaming, and gaming protection. As a remote worker, don't go for free VPNs. Instead, choose a top-rated option that's both affordable and reliable – which will keep confidential information safe and prevent expensive cyber attacks. Take charge of your remote work environment with dependable VPN service.
Conclusion
If you're a freelancer working remotely and want to secure your sensitive data, a VPN is the best solution. It offers top-notch protection, blocking malicious connections and prying eyes by hiding your IP address. Moreover, you can work from anywhere with peace of mind. Just make sure to research and compare VPN services to get the best deal that suits your budget.
Latest posts by FreelancingGig
(see all)