Like many freelancers, you want to promote your services on social media to drive awareness, boost engagement, and win more clients.
However, while promoting on social media is one of the powerful digital marketing strategies for freelancers, social networks are bursting with other promotional content fighting for your target audiences' attention.
If you're not strategic about your approach, your promotional efforts can easily drown in the noise. You'll miss many opportunities to engage prospects and get new leads.
The good news is that there are time-tested tips to help you promote your freelancing services on social media effectively, starting with these four tactics.
1. Post regularly to engage your audience
Social media networks are great spaces to engage your audience and build a community of current and prospective clients.
You can interact with your audience and socialize with them as if you're meeting in person, helping you connect better.
One way of engaging and connecting with your prospects is to regularly post valuable and interesting content while promoting your freelancing services.
For example, you can share content that showcases your work. It's one way of showing prospects the potential benefits of working with you.

Include captivating visuals, such as videos and images to make your promotional content more engaging.
Streamline your content distribution and publishing with reliable social media marketing platforms, such as Loomly, Hootsuite, or Vista Social.
The platforms can help you post content across your social media channels seamlessly, ensuring you publish content regularly for optimum engagement.
For example, Vista Social provides a content calendar and scheduler. You can plan and organize your content and set an auto-publish schedule.
You can also add your posts to a queue so you won't need to manually publish multiple content pieces lined up for posting for the day.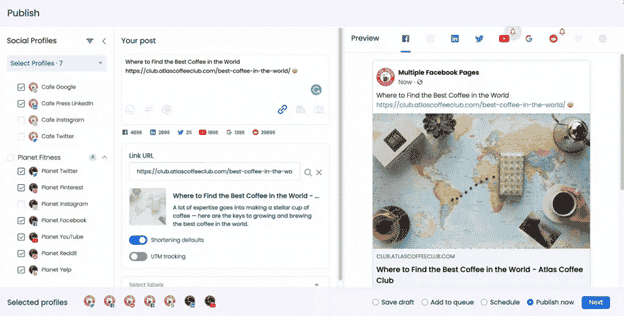 Image source: vistasocial.com.
Using a robust social media marketing platform can simplify and automate your content distribution, saving you tons of time and energy.
You can focus more on designing and writing compelling content your readers can't help but read and share. It can amplify your efforts to promote your business and generate leads.
2. Keep professional and personal accounts separate
Avoid using your personal social media accounts to promote your freelancer services.
Instead, create separate accounts to get more freedom to do what you want with your personal Facebook and Instagram feeds. Doing so allows you to keep your professional social media accounts strictly business-related.
Also, most social media platforms offer unique features and enhanced functionalities exclusive to business or professional pages.
You can't enjoy the special business features if you use personal accounts for your marketing and promotions.
For instance, you can't run Instagram ads with a personal account, and some popular live chat software can only integrate with your Facebook business account.
However, you can blend your personal and professional social media accounts to an extent.
For example, you can share your business posts on your personal accounts to help bring your followers to your professional pages.
Additionally, your professional account doesn't have to be stiff and lifeless.
You can share content that hints at your personality while showcasing your work, the way this freelance graphic designer did in an Instagram post.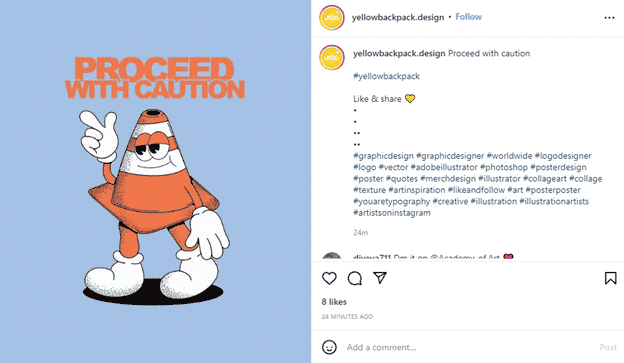 Image source: instagram.com.
Injecting humor and personality into your professional account's profiles and feeds shows your authenticity. It can help you engage your prospects and forge deeper relationships with them.
Don't forget to include your social media posts in your content tracking strategies to assess their performance and potential areas for improvement.
3. Be consistent with your branding
Your brand can set you apart from your competitors and other companies.
Be consistent with your branding elements, from your Instagram profile photo to your Facebook post on the best ways to buy SEO articles.
Doing so can help you establish your brand and maintain a solid presence across social media platforms.
For instance, content creator and entrepreneur she.talks.business uses a consistent color scheme on her Instagram feed.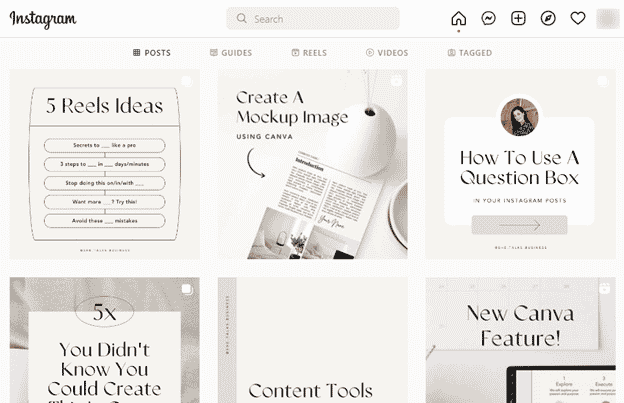 Image source: instagram.com.
Follow these quick tips to ensure your social media content, promotions, and feeds remain on-brand.
Leverage repetition. Repetition doesn't mean posting or sharing the same content over and over again. Instead, adopt content sharing patterns and consistent promotions and materials to help audiences remember you.
The more people associate you with specific posts or branding elements, the better they can remember our brand. For instance, share a weekly roundup of your most memorable client interactions on Facebook using a consistent tone.
Tailor your posts and promotions to each platform. Social media platforms can have unique content and social feed requirements and recommendations.
Ensure your posts and promotional efforts follow each social media platform's recommended specs while staying true to your brand.
Use reliable task management software to plan, organize, and manage your social media content and other creatives and make sure they are consistent with your branding guidelines.
While you can post your service on Facebook Marketplace to support promotional efforts, implementing social media ads can still go a long way in getting you more clients.
Yes, running social media ads can cost money.
However, Facebook and Instagram ads can bring you excellent returns with the right strategies.
Running social media ads can be a strategic move to promote your services, generate leads, and help you acquire new clients quickly.
Make the most of your paid social media ads with these tips.
Target the right audience. Ensure your ads reach the social media users who are likely to need or want your services to optimize your investment and advertising efforts.
Use Facebook Audience Insights to determine your ideal audiences and learn their demographics, interests, lifestyles, etc. The information can shape and inform your social media ad's content and strategies.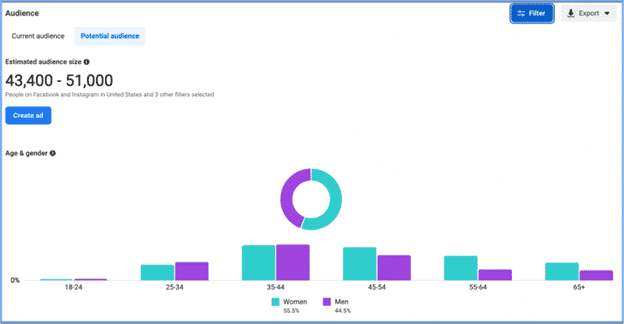 Image source: facebook.com.
Split test your ads. Test variations of your social media ads to know which elements and versions get the best responses from your audience.
Invest in social media ads to reach your specific audience groups that fit your industry, campaigns, and business.
Get more clients with social media marketing
Promoting your freelancing services on social media isn't always easy. You could invest tons of your resources without getting quick returns.
Put in the hard work now, follow the tips in this guide, leverage the best tools, and develop a solid social media marketing strategy.
You can promote your services successfully, engage new leads, gain more clients, and boost your conversions and sales.
Feature Image: Source
Latest posts by FreelancingGig
(see all)