Image Source: Pexels
Performing your marketing tasks manually can be a huge time-suck for you and your team.
If you aren't automating your marketing processes, not only will you end up doing mounds of boring and menial tasks, but you'll also make your life (and your team's) a living nightmare.
That's how crucial marketing automation is.

The good news is, there is a wide array of productivity tools for marketers that can help streamline your workflows, automate your tasks, and help run your campaigns smoothly and efficiently.
Not only that, but automating your digital marketing strategies provides many other benefits for your business — and that's what we're here to find out.
1. Boost your customer lifetime value (CLV) through automated cross-sells and up-sells
If your marketing team fails to run a series of cross-sells and up-sells, you'll be leaving a lot of money on the table.
Instead of you getting thousands of repeat orders from your existing or new customers, you'll get nothing.

Nada. Zero. Zilch.
Marketing automation prevents this from happening since it takes out the human error in the process and lets you create a series of automated rules for cross-selling and up-selling.
Let's say you're selling mountain bikes on your ecommerce store.
Aside from sending your usual email reminders for related gears, you can also offer personalized up-sells.

For instance, you can send automated email campaigns about optional upgrades for mountain bike gears a month before the customer's birthday.
With this, you can ensure you implement your cross-selling and up-selling efforts and nurture your relationships with your target market — which can help boost your CLV.
2. Skyrocket your email marketing ROI
No matter how you look at it, you'll never be able to scale your email marketing campaigns and get a drooling email marketing ROI without using automation tools.
After all, if you want to scale, you need to send hundreds or thousands of emails.
You also need to track your open rates and click rates.
You need to segment your email subscribers.
And you even need to send replies to those who would show interest in what you're offering, among other things.
Sigh…
Just thinking about it is frustrating. If you were to live that reality, you'll never be able to grow your business.
That is why using email automation is an absolute must for businesses who are dead serious about growing their email marketing ROI.

With the right email marketing tool, a single person can run a good chunk of your email marketing workflow in a single platform — all while spending very little time tinkering on the tool.
You can also use other automation platforms — such as Zapier and IFTTT — that sync with your email marketing solutions.
However, the difference between Zapier and IFTTT is that the former is more extensive, while the latter has limited automation functionalities.
This makes Zapier a better choice to automate email marketing and post-email-marketing workflows, such as adding new leads to a database, notifying your teams of qualified leads, etc.
This translates to higher productivity and efficiency in your email marketing campaigns, which would ultimately bring you massive profits!
3. Optimize collaboration with your marketing team
Successful digital marketing requires members of your marketing team to work together like clockwork.

However, establishing smooth team collaboration with manual processes can be chaotic and labor-intensive — which can drag down your workflows and productivity.

An excellent solution is to use marketing project management software to automate tasks — from your planning, communication, and project tracking, down to your campaign implementation.
Software such as monday.com, for instance, offers customizable features and workflow tools to automate parts of your marketing project management process.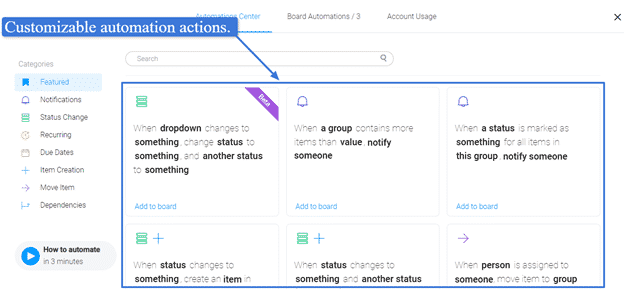 Overall, project management tools offer more than just automation features, but they can help you manage your resources better, streamline your tasks and workflows, and communicate and collaborate with your team seamlessly.
4. Enhance your marketing processes
One of the significant benefits of automation is that it allows you to do marketing tasks more efficiently — which improves your workflows and, in turn, your returns.
However, effectively automating tasks means you need to visualize specific areas, such as your buyer's journey and marketing strategies, so that you can create your processes around them.
For example, you can set automations to trigger actions or campaigns when your leads reach a specific stage in the buyer's journey.
You can visualize this automated sequence through a funnel — allowing you to easily spot where your leads are falling off in the nurturing process, and then make the necessary refinements to improve your process.
5. It allows you to simplify and scale your strategies
Digital marketing involves many moving parts, and you need to pay attention to them if you want to make an impact on your customers and beat competitors.
With the myriad of marketing tools and strategies, such as social media marketing, paid advertising, content promotion, etc., it can get overwhelming to stay on top of all your campaigns.
Automation solutions, however, can help you bring together some of your marketing apps and platforms and blend a few of your workflows to decrease your workload and increase productivity.
Case in point, using ecommerce website builders that offer integrations with automation marketing platforms allow you to run campaigns from a single location.
6. Better content personalization
Personalized messaging in your campaigns can help you connect with your audiences better and improve your chances of converting website visitors into customers.
Marketing automation makes this easier by letting you personalize your efforts and target your campaigns to your customers effectively.
Let's say a website visitor adds an item to their cart but does not go through with the purchase.
You can then create automated cart abandonment emails tailored to get them back to your site and finish buying your products.
With automation, you can send emails with relevant messaging to the right audiences at the right time — and this is something you can set and forget while raking in its benefits for your marketing efforts.
7. Make social media management easier
Maintaining a regular posting schedule is crucial to increasing your audience engagement, reach, and more.

Social media management platforms such as Buffer can help you do this by letting you automatically schedule your posts in line with your social media content calendar.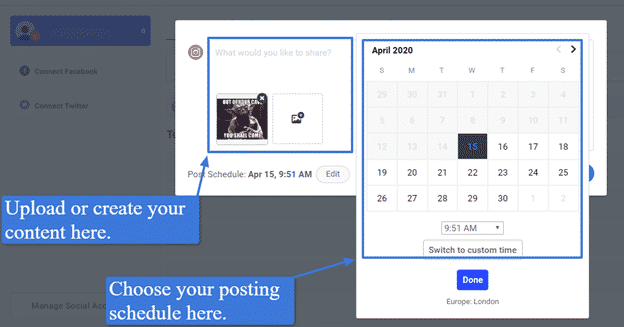 With automated social media posting, you can schedule consistent content drips.

This can cut down your workload in half while ensuring you're maintaining a social media presence that can improve your engagement and, ultimately, conversions.

Although your content is pre-created and scheduled with automated posting, remember to keep your content relevant and fresh such as supplementing them with manually-created trending posts.

After all, just like how you would conduct an SEO audit to help assess your content performance on your website, you'll need to ensure your social media posts are just as timely and valuable to your audience.
8. Save on staffing costs
With marketing automation software, a single employee can complete tasks that will otherwise require several people to do manually.

After all, third-party software and apps allow you to set up your marketing campaigns and lead nurturing efforts to trigger automatically based on your set criteria.
Your email marketing campaigns, for instance, will require several people if you want to scale it so you get meaningful returns.
With email marketing automation, however, a single person can do the work of several people. That one staff can set up sending emails by the thousands and prepare the auto replies, etc.

Not only can this reduce your staffing costs, but it can also make the impact of email marketing ROI more effective for your campaigns and increase their profitability.
9. Improve marketing data accuracy
Customer data is vital to the success of your marketing campaigns. However, for your data to bring real value, it needs to be as accurate as possible.
Sadly, manual data gathering is time-consuming and leaves much room for inaccuracies — which is why most of these tasks are automated by reputable companies.
For instance, SEO consultants, marketing agencies and other potential customers look for SEO tools with high-powered accuracy and automated reporting features.
This lets them deliver value to their customers, save time and resources, and keep up with their numerous client demands and orders.
That being said, automation makes data collection more accurate because it can remove the complexity of the process and other factors like human error.
Plus, there are automation apps that use machine learning to detect dataset anomalies and correct them systematically.
10. Reach wider audiences quickly
Manual processes hinder marketers from reaching many people with a single campaign, but with automation, you can easily create targeted marketing efforts on a large scale.
Automation lets you reach hundreds, if not thousands of different leads with various messages using one tool or platform.
Plus, because you can automate marketing tasks and even entire campaigns, you'll have more time to focus on other critical aspects, such as improving your content.
This allows you to tailor your content to your customers' needs and make your offer as relevant to them as possible — which can also widen your reach and increase your conversions.
11. Streamline content idea generation
Content creation can be a long and resource-intensive process, but you can speed up getting ideas for new blog posts, articles, and more with automation.

Tools such as BuzzSumo, for example, can automatically help generate SEO-effective keyphrases, keywords, and content and buzzworthy topics for you.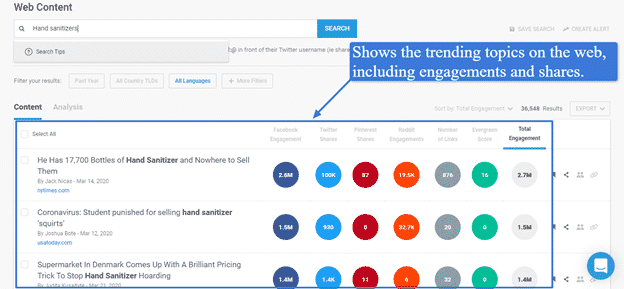 The tool offers content automation insights and can help you identify the most shared content in social media channels.
Plus, you can use the tool to find relevant influencers using keywords and topics, do an automated competitor analysis, and more.
With this, you won't need to spend hours scouring the web for things that interest your target audience in creating relevant content around those topics.
Bottomline
Automation can revolutionize the way you run your campaigns and work with your team — giving you the best returns for your investment.

Where manual marketing processes fail, automation can help you succeed.
Although automating your digital marketing doesn't mean you give up total control over your tasks, it's an excellent approach to optimize your workflows and save on your resources.
Latest posts by FreelancingGig
(see all)